As an electrical engineering student, [Brandon Rice] had the full suite of electronics tools you'd expect. Cramming them all into a dorm room was doable — but cramped — a labour to square everything away from his desk's top when he had to work on something else. To make it easier on himself, he built himself a portable electronics workstation inside the dimensions of a briefcase.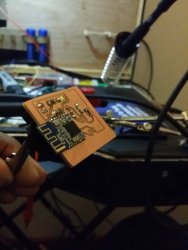 Built from scratch, the workstation includes a list of features that should have you salivating by the end. Instead of messing with a bunch of cables, on-board power is supplied by a dismantled 24V, 6A power brick, using a buck converter and ATmega to regulate and display the voltage, with power running directly to  12V and 5V lines of a breadboard in the middle of the workstation. A wealth of components are stored in two dozen 3d printed 1″ capsules setting them in loops pinned to the lid.
If all this was not already enough, there's more!
Continue reading "Business On The Outside, Electronics Workstation On The Inside" →