The United Kingdom is somewhat unique in the world for requiring those households which view broadcast television to purchase a licence for the privilege. Initially coming into being with the Wireless Telegraphy Act in 1923, the licence was required for anyone receiving broadcast radio, before being expanded to cover television in 1946. The funds generated from this endeavour are used as the primary funding for the British Broadcasting Corporation.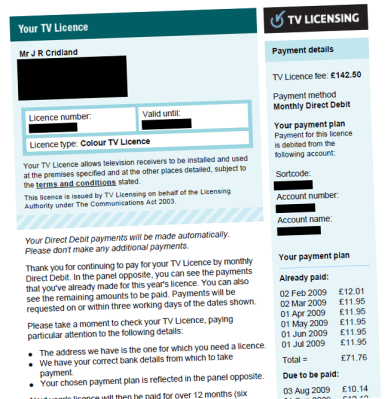 Of course, it's all well and good to require a licence, but without some manner of enforcement, the measure doesn't have any teeth. Among other measures, the BBC have gone as far as employing special vans to hunt down illegally operating televisions and protect its precious income.
The Van Is Coming For You
To ensure a regular income, the BBC runs enforcement operations under the TV Licencing trade name, the entity which is responsible for administering the system. Records are kept of licences and their expiry dates, and investigations are made into households suspected of owning a television who have not paid the requisite fees. To encourage compliance, TV Licencing regularly sends sternly worded letters to those who have let their licence lapse or have not purchased one. In the event this fails, they may arrange a visit from enforcement officers. These officers aren't empowered to forcibly enter homes, so in the event a homeowner declines to cooperate with an investigation, TV Licencing will apply for a search warrant. This may be on the basis of evidence such as a satellite dish or antenna spotted on the roof of a dwelling, or a remote spied on a couch cushion through a window.
Alternatively, a search warrant may be granted on the basis of evidence gleaned from a TV detector van. Outfitted with equipment to detect a TV set in use, the vans roam the streets of the United Kingdom, often dispatched to addresses with lapsed or absent TV licences. If the van detects that a set may be operating and receiving broadcast signals, TV Licencing can apply to the court for the requisite warrant to take the investigation further. The vans are almost solely used to support warrant applications; the detection van evidence is rarely if ever used in court to prosecute a licence evader. With a warrant in hand, officers will use direct evidence such as a television found plugged into an aerial to bring an evader to justice through the courts.
Continue reading "TV Detector Vans Once Prowled The Streets Of England" →