If you're making a lot of wiring harnesses, wrapping them can become a bit of a drag. [Well Done Tips] wanted to make this process easier and built a wiring harness wrapping machine.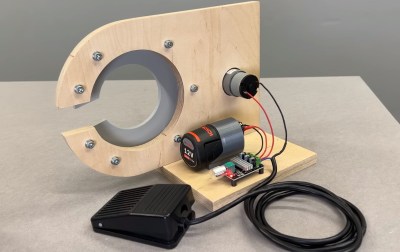 The "C" shape of this wrapping machine means that you can wrap wires that are still attached at one or both ends, as you don't have to pull the wires all the way through the machine. The plastic "C" rotates inside a series of pulleys with three of them driven by a belt attached to an electric motor. A foot pedal actuates the motor and speed is controlled by a rotary dial on the motor controller board.
Since this is battery powered, you could wrap wires virtually anywhere without needing to be near a wall outlet. This little machine seems like it would be really great if you need to wrap a ton of wire and shouldn't be too complicated to build. Those are some of our favorite hacks.
If you're wanting more wire harness fun, try this simple online wiring harness tool or see how the automotive industry handles harnesses.
Continue reading "DIY Tool Makes Wrapping Wiring Harnesses A Breeze" →