At long last I had the opportunity to try out the CastAR, a glasses-based Augmented Reality system developed by Technical Illusions. The hardware has been in the works now for a couple of years, but every time we have come across a demo we were thwarted by the long lines that accompany them. This time I was really lucky. [Jeri] gave us a private demo in a suite at the Palazzo during CES 2015. Reflecting on the experience, CastAR is exactly the type of Virtual Reality hardware I've been longing for.
CastAR v Oculus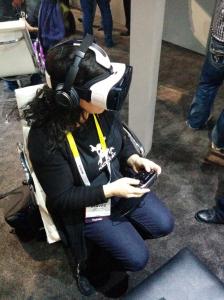 I did not have the opportunity to try out Oculus' new Crystal Bay (long lines as mentioned above) but I did take the Gear VR for a spin. Oculus Gear VR is a mounting system for a Samsung Galaxy Note 4 which serves as the display on the game. The viewing angles were good, the colors vivid, and I do remember noticing pixels but I wouldn't call it pixelatted. But here's the thing, strap this right to your face, put on some headphones, and you are completely shut-off to the world. It wasn't the confinement that was disappointing, it's knowing that there is no interfacing with what's around you until the VR gear is removed.
CastAR completely solves this particular problem. The hardware uses polarized glasses which have two 720p projectors and two cameras built into them. The frames feel like a set of large sunglasses with thick plastic frames and do not block your peripheral vision or the ability to look around the room. You could play games with friends while sitting around the table and still look at the people and the room normally. Of course the digital part of the experience could also be viewed remotely if only three people were in one place and wanted a fourth for the evening's festivities.
Perhaps an unintended featured demonstration was the fact that Technical Illusions had draped some material over an ottoman in the hotel room and it performed perfectly as the gaming surface. Since the retroreflector is fabric you can roll this up and take it with you quite easily.
Join me after the break for a view of the hardware and a tease about the next version.
The Hardware
In addition to the glasses, CastAR relies on a computer to drive the experience, a passive infrared marker which the cameras uses to measure your movement, and a retroreflective material on which each person's experience is projected. Put this material anywhere and the projectors will fill it with the virtual space. It's truly a remarkable effect as light only reflects from it in the exact angle it originated. This means that you will see light from your glasses' projects but your companions will not. Put another way, multiple people wearing CastAR see their own Augmented Reality experience and they don't interfer with each other. A simple for-instance is people playing Scrabble and they all see the letters oriented to their own point of view. Ambient light from the room will also have a negligible effect on your projection as it will reflect back to the light source and not toward your eyes.
I found the projectors to be an incredible piece of engineering. [Jeri] recounted her experience developing them. Early on she ordered stock lens and stacked many of them together in order to achieve the desired effect. When approaching production she contracted an optics firm to turn her prototype into reality. They fed her lens numbers into their simulation software and told her the setup basically shouldn't work. After a bit of back and forth, which included [Jeri] swapping the firm's prescribed lens ordering, she ended up making a shorter total optical path than the experts. It's a clear case of innovation that came about because she wasn't limited by "what is possible".
Next Gen Hardware
Technical Illusions is beginning to fulfill the Kickstarter units now. But [Jeri] is already hard at work on the next revision of the hardware. I asked if they had run more production units than the number of backers in order to put them up for sale and they have not. The plan is to improve function while reducing size… mass production will wait for this benchmark which is nearer than I would have guessed.
I have to beat around the bush a little bit here. [Jeri] showed me the prototype of the projector/camera hardware for the next version. There's a lot of competition in the AR/VR world so I can't share a picture or too many details. What I will say is that I was astonished by how small the module has become. The board, projectors, and cameras could be lost in your pocket if you were careless enough to drop it in there.
Searching for a Downside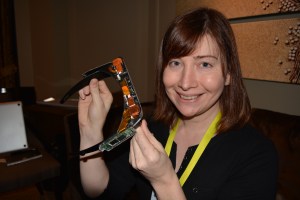 I've been trying to think of any drawbacks to this system. The only thing I can come up with is that it is a projection based system. I have always felt that projection systems don't have displays as bright and vibrant as ones that use screens. That said, CastAR's projectors appear to perform as well as any consumer projectors.
Of course personal opinions about full virtual reality immersion will differ from mine. If you are looking to completely replace your surroundings with a digital world this could be considered a drawback. At the same time, after seeing what CastAR can do with retroreflective material strewn about the room I posit that someone will hack this into full VR either using a head-shroud or a full room of the material (holodeck). The only question I have is will this be done first by one of the Kickstarter backers or by [Jeri] and [Rick] themselves?