You should already know about the 2015 Hackaday Prize, but have you submitted your entry yet? All it takes to get started is talking about one idea you have to address a problem faced by a large number of people. To help get the ball rolling we're giving away some prizes to three entries that discuss possible solutions to Environment-Related problems.
For your chance at this week's goodies all you need to do is document your idea on Hackaday.io and tag it "2015HackadayPrize".
This Week's Prizes: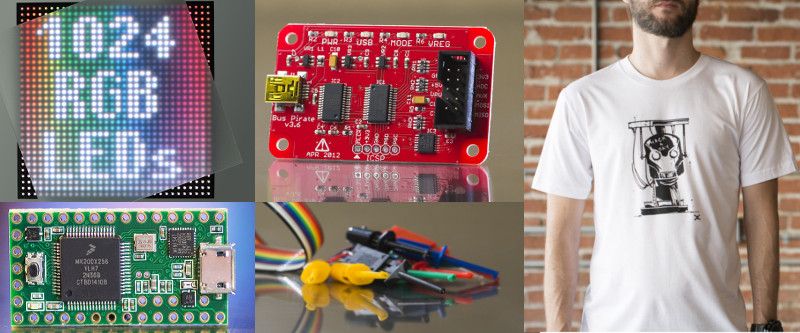 On Monday, March 30th we'll take a look at all the entries tagged 2015HackadayPrize and choose three that best fit the topic of Environment-Related. The best will receive the SmartMatrix 32×32 RGB LED matrix along with a Teensy 3.1 to drive it. The next pick will receive a Bus Pirate and probe cable. The final prize will be a Hackaday Robot Head Tee.
An Idea is All You Need for Entry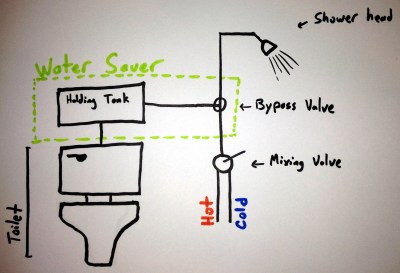 We're not messing with you; all you need to win these early prizes is an idea. One of the most powerful pieces of the Hackaday Prize is the pollination of thought. Your idea might be the tipping point for someone else's breakthrough or vice-versa. Start a project on Hackaday.io and add the tag "2015HackadayPrize".
Pictured to the right is a whiteboard sketch by [MechaTweak] which illustrates one very simple shower water-saving idea (we think this was prompted by our column on the topic last week). The idea here is that instead of running water down the shower drain as you wait for it to heat up, the water cold be sequestered in a holding tank and used for flushing the toilet the rest of the day. This will certainly be in the running as it addresses the issue of water conservation. Going along with our Environment-related topic you might also tackle alternative energy production, helping detect or curb pollution, making recycling easier, reducing waste, etc.
As we move along we'll be awarding bigger and better prizes. Submitting an idea now will give you an early start on your planning. You'll still be eligible for future prizes, and you may submit as many entries as you like.
---