Non-planar layer Fused Deposition Modeling (FDM) is any form of fused deposition modeling where the 3D printed layers aren't flat or of uniform thickness. For example, if you're using mesh bed leveling on your 3D printer, you are already using non-planar layer FDM. But why stop at compensating for curved build plates? Non-planar layer FDM has more applications and there are quite a few projects out there exploring the possibilities. In this article, we are going to have a look at what the trick yields for us.
Smooth, Curved Surfaces
Non-planar-layer FDM allows for smooth, curved surfaces, which otherwise would show the typical staircase of discrete layers. Usually, I'm relying heavily on sand paper and spray filler to upgrade my 3D prints to Class-A, and I've been quite surprised by how smooth the non-planar test prints came out directly from the machine:
While the discrete layers aren't always a problem when printing functional, mechanical parts, there may be applications where this comes in quite handy. The lack of discrete layers gives the models a nice look that requires no further smoothing, which may be helpful in design applications. The smooth surfaces may also help 3D printing aerodynamic models, like the airplane wing from the header photo:
Strengthened Parts
Non-planar printed parts seem to be stronger than their planar counterparts. You may be skeptical about this — although the varying orientation of the contact surfaces between layers could lead to a more uniform resistance to tensile stress. Planar printed FDM parts are typically less resistant to tensile stress along the build direction axis than they are along the other two dimensions, which can lead to delamination. Interlocking, non-planar layers can distribute tensile forces into a compound of tensile and shearing forces, with the latter being a particular strength of FDM printed parts. The graphic shows how the shearing component FS increases with increased displacement: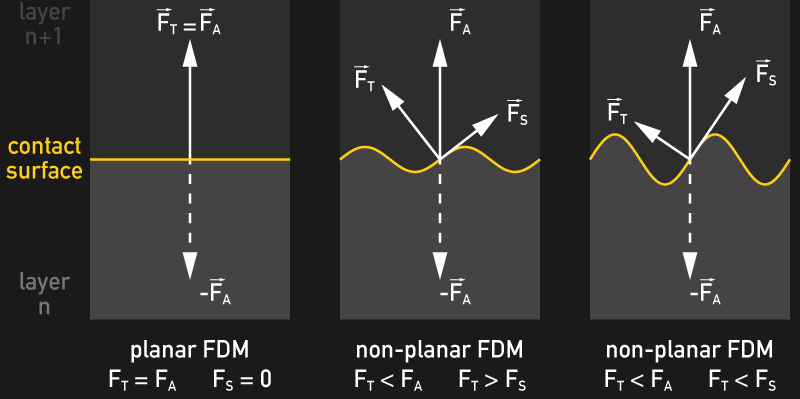 By adding transitions between displaced layers and compensating for the variable layer height, it is also possible to treat only certain portions of a 3D printed part, while leaving other parts entirely untouched. The following example print features a flat top and bottom, only the layers in between have been gradually displaced.
The slight wave in the above example may not exhaust the effect entirely. Unfortunately, my printer currently does not feature a very pointy nozzle, which limits its capability of printing steep curves. To make it easier to spot the displacement, I changed the material color mid-print. Any strengthening effect will certainly only be as good as the individual implementation, and eventually: Until this has been verified through measurement, I'd rather not stress this theoretical argument for non-planar layer FDM too much.
Structured Surfaces
Just like a tree stump reveals the annual rings of the tree, 3D printed objects also show signs of their formation process through the typical rippled structure along their outer shells. Objects printed in a planar fashion typically also show tool paths of infill and perimeters on their top layers. Non-planar layers allow you to add additional textures to the flat top surfaces of your prints, which may be especially interesting in custom design applications. The cube below has been printed using a 2D-sinusoidial displacement pattern.
These textures occur similarly to the mentioned tree-rings. Flat top layers of non-planar printed objects represent a cross-section through the displacement pattern, which results in interesting patterns by itself. It's up to the individual application and taste if the creation of these patterns is desirable, yet I happen to find them quite beautiful.
Hands-On
Ideally, non-planar 3D printing is done using a somewhat pointy nozzle, as flat nozzles tend to dig into the previously printed material and easily get entangled in infill structures. Generally, a pointy nozzle allows for steeper printing angles, although you always need to make sure that no other parts of the nozzle or print-head are getting in the way. Especially fan mounts or ducts are prone to collide with parts of the print. I'm using an E3Dv6 hotend and nozzle for the examples in this post, although there are probably better solutions out there. In particular, the Merlin hotend features a very fine and pointy nozzle, with the only thing that could get into the way being the heater block.
The non-planar tool paths require a lot of action on the Z-axis, now is the time to add some fresh grease to its mechanics. Depending on how fast your Z-axis can move, you may also readjust its maximum speed and jerk settings in the firmware.
Using the template code of the G-code post-processing article last week, I put together a little script that lets you generate non-planar G-code on the fly using Slic3r. You can obtain the script from its GitHub repository, which also contains detailed instructions on how to use it. It also comes with several examples: The first three examples are the cube I used for the illustrations in this post, along with the same sinusoidal displacement function. The fourth example is the airplane wing model from the title graphic. The wing is based on a flat design that has been displaced to obtain the aerodynamic shape.
After exporting the G-code of this rather unspectacular design from Slic3r, which also pushes it through the post-processing script for displacement, the wing takes on its final shape. Due to the thin shells this method allows, it is very light. Still, it's certainly not safe to fly and meant purely to illustrate the technique:
I printed the above G-code on a Prusa i3, using a 0.4 mm E3Dv6 nozzle. Even though this nozzle is not very pointy, the wing turned out quite well. Due to the suboptimal nozzle geometry, the top-side features shallow, regular grooves.
I hope you enjoyed this little excursion into off-track 3D printing. Check out the script and share your results, opinions and ideas with us in the comments!