Amateur radio has a couple of sweet allocations in the VHF bands, but because the signals don't reflect off the ionosphere like shortwave signals, the use is limited basically to line-of-sight. One workaround is to use a repeater with a tall antenna, but that requires a lot of infrastructure or a mountainside lair.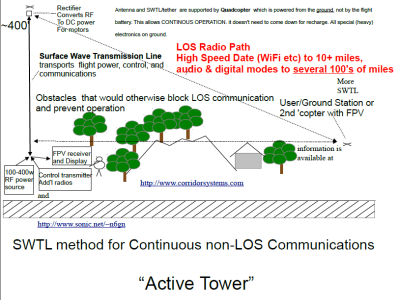 What if you could just fly your antenna up in a drone? Well, for starters, you'd run out of batteries pretty quickly unless you could power it remotely. And if you try to tether it, the supply wires end up being too heavy to lift. Or do they?!?!
This is where our story gets strange. [Glenn, n6gn] has built a rig that transmits significant power over distance using a very thin wire. The trick is to send the power at high-frequency down the wire, at which point it becomes more like a transmission line than a conductor. (We're not 100% on the physics here.) The signal is rectified to DC on the other end and, in this case, used to power the quadcopter. Check out the video (embedded below) where [Glenn] walks through an early test setup.
[Glenn] isn't quite there yet, but he's been able to send almost 200 watts down 0.32 mm wire and he's proven the basic principles of operation using balloons for lift. There are a few PDFs that get into more detail on [Glenn]'s website, and some of them are reprints of his articles in the ARRL's QEX journal of experimental ham radio projects. These experiments are all conducted with ham-friendly parts and cardboard, so there's nothing stopping you from trying this out yourself.
Thanks [Martin] for the tip!