The Economist is an interesting publication, a British weekly newspaper that looks for all the world like a magazine, and contains pithy insights into world politics and economic movements. It's one of those rare print news publications that manages to deliver fresh insights even to hardened web news junkies despite its weekly publication date.
It was typical then of their wide-ranging coverage of world industries to publish a piece recently on the world of supercapacitors, with particular focus on Estonia's Skeleton Technologies. This is an exciting field in which the products are inching their way towards energy density parity with conventional batteries, and news of new manufacturing facilities coming online should be of interest to many Hackaday readers.
Exciting though it may be it was not the news of a new capacitor plant in Germany that provided the impetus for this piece. Instead it was the language used by the Economist writer delicately skirting the distinction between the words "Supercapacitor" and "Ultracapacitor". Images of flying crimefighters in brightly coloured capes spring instantly to mind, as Captain Ultra and Superman battle an arch-villain who is no doubt idly bouncing a piece of burning Kryptonite against the wall in readiness for the final denouement.
In fact the comic book wars are a good analogy. Just as Marvel's Captain Ultra and DC's Superman fought among their respective cohorts for shelf space and juvenile hearts and minds through the final decades of the last century, industrial behemoths in the world of energy storage capacitors battled for control of the unseen but equally lucrative non-volatile memory power market that was then their chief application.
In one corner were NEC and Panasonic with their supercapacitors, in the other were Pinnacle Research Institute and Maxwell with their ultracapacitors. Zap!, Pow! Let battle commence, even if "Zap!" is not necessarily the sound you want to hear around a fully charged high volume capacitor.
The two terms were each originally coined by the inventors of successive iterations of the technology, but by the time they encountered each other in the marketplace they were both applied to substantially identical products that performed essentially the same function. You can't even slide anything thicker than a cigarette paper between the definitions of their prefixes:
super: above; over; beyond
ultra: beyond; on the other side of
So the two terms are equivalent words for the same product whose only difference today lies in the marketing spin of whichever manufacturer you are talking to. The question is then how to avoid causing confusion in the mind of a non-technical reader when referring to them, and as is so often the case in matters of language that is not an easy one to answer.
Differences in language sometimes arise through local custom, for example you may say "Flashlight" while I would say "Torch". At other times they come from the decisions of lone arbiters of the tongue, for example in the work of seminal lexicographers like Samuel Johnson or Noah Webster. When modern lexicographers encounter competing language they take a more careful approach, eschewing this prescriptivism and instead going for a descriptive approach in which they look at the language as it is used. They maintain huge corpora, large bodies of written language, upon which they perform statistical analysis to extract solid evidence for their linguistic studies.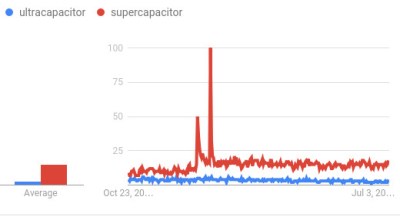 Sadly here at Hackaday we do not hold a corpus of contemporary English to aid our writers in their research. We do however, thanks to the Web, have a resource that is every bit as useful when comparing two discrete words, in the form of Google Trends. Comparing how the two words fare in terms of Google searches is a very handy way to quickly see which has the upper hand, and in this case the answer is particularly evident. "Supercapacitor" has in the region of five times the search volume of "Ultracapacitor", so is the clear leader in terms of usage.
Looking at the regional story it becomes evident that "Ultracapacitor" has a little more traction in the USA than elsewhere in the world, but it remains the loser even there. It's probably safest to refer to them as "Supercapacitors" to avoid confusion, unless you are referring to a product specifically branded as an ultracapacitor.
Questions of language so often descend into semantic arguments that dance on the head of a pin, but there is a practical side to this discussion. If you ever turn a piece of your work into a product, its success or failure can hinge on something as simple as a poor choice of wording. We once encountered a company that made small aggregate crushers — a *very* cool product that would crush anything! — whose sales were transformed when they dropped their preferred term "Compact crusher" and adopted the industry's favoured "Mini crusher". It's therefore worth doing this kind of research and being prepared to throw your linguistic objects of worship from their pedestals if they don't make the grade.
Elna supercapacitor image: Elcap (Own work) [CC0], via Wikimedia Commons.