(Bipolar Junction) Transistors versus MOSFETs: both have their obvious niches. FETs are great for relatively high power applications because they have such a low on-resistance, but transistors are often easier to drive from low voltage microcontrollers because all they require is a current. It's uncanny, though, how often we find ourselves in the middle between these extremes. What we'd really love is a part that has the virtues of both.
The ask in today's Ask Hackaday is for your favorite part that fills a particular gap: a MOSFET device that's able to move a handful of amps of low-voltage current without losing too much to heat, that is still drivable from a 3.3 V microcontroller, with bonus points for PWM ability at a frequency above human hearing. Imagine driving a moderately robust small DC robot motor forwards with a microcontroller, all running on a LiPo — a simple application that doesn't need a full motor driver IC, but requires a high-efficiency, moderate current, and low-voltage-logic compatible transistor. If you've been here and done that, what did you use?
Bipolars
Years ago, the obvious answer to this dilemma would be TIP120 or similar bipolar junction transistor (BJT) — and a lot more batteries. The beauty of old-school Darlington transistors in low-voltage circuits is that the microcontroller only needs to produce a small current to push relatively large currents on the business end. With BJTs, as long as you can get over the base-emitter junction voltage (typically under one or two volts) you just pick the right base resistor and you're set. This is in contrast to FETs of the day which require a given voltage to pass a current through them. Gate voltages for the big FETs are optimized for the 4-5 V range which is lousy if you all you have is a LiPo battery.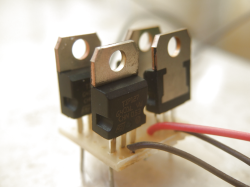 While the power Darlington is easy to drive, it has a few drawbacks. First is the voltage drop through the device when it's conducting. Drop one or two volts on the transistor and you've pretty quickly got a few watts of power going to waste and a hot chip. And that's assuming that you've got the voltage drop to spare — a volt or two off of the 3.6 V on a LiPo battery pack is a serious loss.
With apologies to [Adam Fabio], the BJT is off the list here. It's easy to drive at low voltages, so it would work, but it won't work well because of stupid quantum mechanics.
FETs
MOSFETs should be great for driving small motors, on paper. They have incredibly low on-resistances, easily in the milliohms, and they can turn on and off fast enough that the PWM will be efficient and noiseless. The flaw is that garden-variety power MOSFETS, for driving big loads, tend to have similarly large gate threshold voltages, which is a showstopper for low-voltage circuits. What can we do?
If the motor were being driven by a higher-voltage source, and you were switching the MOSFET on the low side, then you can use the motor's power supply to drive the MOSFET, switching it on and off with whatever is handy — a small-signal BJT is just about perfect here. That's the classic solution, illustrated here. As long as the motor voltage is high enough to fully open the MOSFET, you can just use that for the switching voltage.
In the actual application that spurred this column, I wanted to use a LiPo cell for the motor and the logic, but I ended up doing something ridiculous. I started off with a go-to MOSFET from my 5 V logic days, the IRF530, but it barely turns on at 3.3 V. So I cobbled on a 9 V battery to provide the switching voltage — purely to drive the MOSFET into full conduction. This 9 V "high" voltage is switched by a 2N2222 small-signal BJT and seems to do the job just fine. It works, but it's a horrible hack; I wanted to drive everything off the LiPo, and failed.
Other Options?
Big power MOSFETs, in addition to having a higher gate voltage, also have some capacitance that needs to be overcome to turn them on and off. Between the fully-on and fully-off states, they get hot, so it's important to push enough current into the gate fast enough that they transition quickly. Thus, big power MOSFET circuits use a gate driver circuit to drive them. A low-voltage gate driver, paired with my IRF530, would certainly be an option here. But all this just for a medium-sized DC motor? Seems like overkill.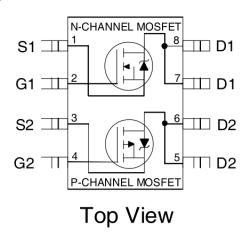 Once we embrace complexity, there are small H-bridge and push-pull driver ICs that might fit the bill, and they've naturally got MOSFETs inside. Now that I think about it, I've built small-motor H-bridges from N/P complementary pair MOSFET chips in the past, and they work for low voltages. Somewhere in my pile I have some IRF7307s that will just barely do the job. I'd be ignoring one of the two paired FETs, but who cares?
Taking the next step in IC complexity, the various stepper-motor driver ICs can usually push and pull an amp or two, and operate on low voltages. You could conceivably drive a DC motor off of one phase of a stepper controller, but that just seems wasteful. But something like (half of) a TB6612 would work.
On the other hand, the fact that these various gate-driver, H-bridge, and stepper controller ICs can handle the currents I want with low logic voltage thresholds suggests that there should be at least a few monolithic, and cheaper, MOSFETs that can switch a few amps around on low voltages. Where are they hiding?
The Ask
So what would you do when you need to push up to two amps DC in one direction at LiPo battery voltages, with low loss, driven (potentially by PWM) from a 3.3 V microcontroller? Feel free to take this as a guideline, and deviate wherever you'd like from the spec if it brings up an interesting solution.
Whatever you do, don't give me current figures out of a datasheet headline that are based on microsecond pulses, only to find out that it's outside of the part's DC safe operating area. I've been down that road before! It never ceases to amaze me how they design parts that are rated for 100 A at 10 microseconds that can only handle 300 mA steady state.
This has to be a common hacker use case. Does anyone have the MOSFET I'm looking for? Or do you all just use motor driver ICs or tack random 9 V batteries into your projects? (Ugh!)
[MOSFET tattoo image from Google image search; Make Yr Mom Sad on Tumblr (dead link)]