What does a Hackaday writer do when a couple of days after Christmas she's having a beer or two with a long-term friend from her university days who's made a career in the technical side of digital broadcasting? Pick his brains about the transmission scheme and write it all down of course, for behind the consumer's shiny digital radio lies a wealth of interesting technology to try to squeeze the most from the available resources.
In the UK, our digital broadcast radio uses a system called DAB, for Digital Audio Broadcasting. There are a variety of standards used around the world for digital radio, and it's fair to say that DAB as one of the older ones is not necessarily the best in today's marketplace. This aside there is still a lot to be learned from its transmission scheme, and from how some of its shortcomings were addressed in later standards.
Channels and Capacities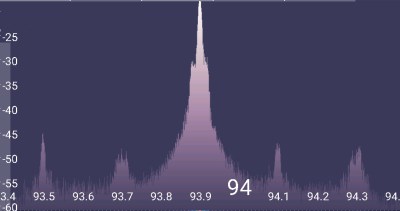 You will all be used to analogue broadcasting on AM and FM, in which each station has its own transmitter and occupies its own frequency. With a digital system like DAB each transmitter does not restrict itself to only one station, instead it transmits several at once in a multiplex. Each multiplex has a data rate of just under 1.2 Mbits/s, which in practice allows it to carry around ten MP2-compressed stations depending on the data rates of each individual station. It's difficult to state a hard and fast figure for the channel capacity of a multiplex, because not only can different sample rates be used for each channel, those rates can be changed on the fly.
The British multiplexes are transmitted in the spectrum once occupied by the upper set of the old British 405-line TV channels around 200 MHz. However they are not modulated onto an RF carrier in the same way as a traditional analogue radio or TV station is. To understand why this is the case, imagine for a minute that you had a serial port with a 1.2Mbit/s data stream on it. If you were to feed the stream to a traditional modulator on an analogue transmitter, you'd have a transmitted bandwidth of just over 1.5 MHz. In an idealised free space environment that would make a passably good broadcast system, but to see why it would not work in the real world just think for a moment about watching analogue TV with an inadequate antenna.
Multipath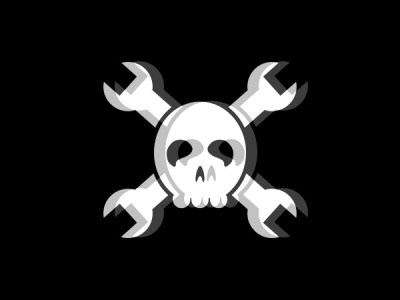 Sometimes on your TV in the analogue days you would see a second "ghost" image, a faint clone of the main image overlaid to the right of it. This was the result of the transmitted signal taking multiple paths to your receiving antenna, the main image being via the direct path and the "ghost" image being a path via a reflection from an object such as a tall building or a passing aircraft. The distance on the screen between the real image and its ghost represented the time difference between those two radio paths.
Now imagine that high-speed digital data stream again, only instead of in idealised free space put it in a real-world situation with passing aircraft, and all that ghosting. The time difference between the real stream and its ghost is now very significant compared to the length of an individual data bit, and thus overlaying the ghost on the original stream has the effect of causing huge errors in the received data stream. Clearly some means of combatting this problem is required.
Many Little Channels
The answer comes in the form of increasing the length of the data stream bits such that the ghost time difference is no longer significant in relation to it. Simply lengthening the data bits of the stream would reduce the data rate to the point of uselessness, so they instead split the one single high data rate stream into many individual low data rate streams with much longer bit lengths.
That single carrier with an over 1.5 MHz bandwidth then becomes over 1500 individual carriers each with a 1 KHz bandwidth, and each of those carriers has a low enough data rate for the ghosting to no longer be a problem. The overall data rate is the same, as is the overall spectrum bandwidth. but the resistance to ghosting has been improved enormously. It also has the handy effect of improving the resistance to typical narrow-band RF interference, because a certain number of the individual carriers can be lost without exceeding the ability of the error correction to compensate for it.
Splitting the stream into multiple carriers in this way is referred to as COFDM, or Coded Orthogonal Frequency Domain Multiplexing, and since each carrier is phase modulated by the four 90-degree-apart quadrature vectors the modulation scheme is referred to as DQPSK, for Differential Quadrature Phase Shift Keying. Yes, the linguistic influence of [Samuel Morse]'s key finds its way into digital broadcasting.
Sounds Like Mud
Of course, the nature of the RF side of DAB and other similar transmissions is only half the story There is the compression algorithm and the error correction algorithm, which define the real-world characteristics of the standard. DAB in particular is notorious for poor performance under low signal conditions, in which the signal can dissolve into a sound that is colloquially described as "like boiling mud". Other countries have either abandoned their DAB rollout or gone straight for a more recent standard such as DAB+. That's the price Brits pay for their country being an early adopter.
So why does DAB have this poor performance compared to its successor? According to my friend as we cracked open another couple of San Miguels cooled by the frosty night outside the window, the secret isn't in its use of MP2 rather than AAC, but in the error coding scheme. The designers of DAB tried to shape the standard so that the components they considered most important to the intelligibility of the received audio were protected. They thus put a weighting in the error coding scheme towards certain frequencies, and it seems this is responsible for the flaw because it left it more vulnerable at the other frequencies. The resulting degradation in quality becomes much steeper as the  percentage of the stream that is lost rises, to the extent that the system is quickly rendered unusable.
We all pick up in-depth knowledge of the systems and technologies we work on during our careers. I knew my friend worked in this line, and this was a fascinating opportunity to gain some understanding of a system about which I had a basic grasp but didn't really know what made it tick. It's this kind of information-sharing that's so valuable, while little may come of my new-found understanding of DAB there is a lot to be said for accruing technical knowledge for its own sake. If you find yourself hanging out with a friend from way back, make sure you ask them about their specialities, you might learn something interesting.
DAB radio header image: Yisris (CC BY-SA 2.0) via Wikipedia Commons.