Ever wanted to access a file or run some program on your computer while away from home, but the darned thing is turned off? Finding themselves occasionally working away from home and not wanting to leave their computer on for extended periods, [robotmaker]'s solution was to hack into existence a WiFi-controlled power bar!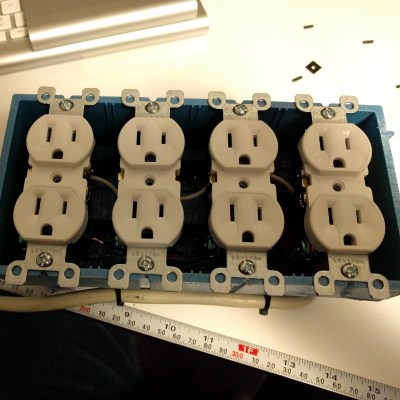 Inside the junction box, an eight-channel relay is connected to an ESP8266 module. The module uses MQTT to communicate with Home Assistant and is powered by a partially dismembered USB AC adapter — wrapped in kapon tape for safe-keeping. The entire bar is wired through a 10A fuse, while also using a fire resistant 4-gang electrical box. Once the outlets were wired in, closing it up finished up the power bar.
[robotmaker] controls the outlets via a cheap smartphone — running HADashboard — mounted to a wall with a 3D printed support. Don't worry — they've set up the system to wait for the PCs to power down before cutting power, and the are also configured to boot up when the relay turns on.
The best part — the power bar only cost $25.
[via /r/homeautomation]