I'm in the planning stages of a side project for Hackaday right now. It's nothing too impressive, but this is a project that will involve a lot of electromechanical parts. This project is going to need a lot of panel mount 1/8″ jacks and sockets, vertical mount DIN 5 connectors, pots, switches, and other carefully crafted bits of metal. Mouser and Digikey are great for nearly every other type of electrical component, but when it comes to these sorts of electromechanical components, your best move is usually to look at AliExpress or DealExtreme, finding something close to what you need, and buying a few hundred. Is this the best move for a manufacturable product? No, but we're only building a few hundred of these things.
I have been browsing my usual Internet haunts in the search for the right bits of stamped brass and injection molded plastic for this project, and have come to a remarkable conclusion. Engineers, apparently, have no idea how to dimension drawings. Drafting has been a core competency for engineers from the dawn of time until AutoCAD was invented, and now we're finally reaping the reward: It's now rare to find a usable dimensioned drawing on the Internet.
This post is going to be half rant, half explanation of what is wrong with a few of the dimensioned drawings I've found recently. Consider this an example of what not to do.  There is no reason for the state of engineering drawing to be this bad.
---
Example One: It Gets Worse The More You Look At It

This first example comes from Bitches Love My Switches, an unfortunately-named storefront, but one that does have a lot of neat switches and jacks with a warehouse on the East Coast with quick shipping. If you want some jellybean parts for guitar pedals and associated audiophilia, it's a nice place to know. This store doesn't manufacture their own switches, and with that comes the problem of datasheets and dimension drawings. These drawings were made by a random engineer somewhere, and this person has no training in dimensioned drawings.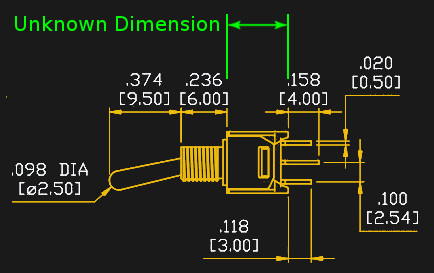 Let's work through a design problem using the dimension drawing shown above. This is a PCB-mounted, switch, that is meant to have a nut holding it down to a panel. Think of it as a PCB standoff, only it's a switch. This switch can be used as a mechanical, structural part of an enclosure.
To design anything using this switch, you need to know the height of every part of this switch, from where it attaches to the PCB, to where the nut will screw on. You need to know the height of the switch body. This dimension is completely absent in this drawing, making the drawing absolutely useless. The dimension you need to design anything using this switch is absent. But this drawing gets worse.
What if you wanted to know the height of the 'toggle' that physically moves in this switch. It's labeled in the drawing as 9.5 mm, but this dimension is useless at best, and wrong with even the most liberal interpretation. Why? Because the toggle pivots. The tip of this toggle moves in an arc, and the tip will be 'longer' in the middle of its swing than it is in either of its latched positions. A real dimensioned drawing would include the 9.5 mm dimension and the angle of the toggle in the latched position so you can figure out the actual maximum height of the switch.
Want to hate this drawing even more? Sure thing. What sized nut goes on the threaded portion? Exactly. This isn't a swing at the store selling these switches, but it is indicative of some terrible practices across the entire electronics industry. Somehow or another, everyone forgot how to create useful dimensioned drawings.
---
Example Two: All Loudspeaker Manufacturers Meet at Bohemian Grove
The project I'm working on will also need a speaker. The general specs are a 3-4 inch diameter speaker that can handle five Watts. I'm not looking for quality here, but I am looking for something I can design an enclosure for before I order it.
A speaker is a remarkably simple device. There's a coil and a magnet, two terminals, a paper cone, and a metal flange with four holes around the perimeter of this flange, offset ninety degrees from each other. Nearly every generic loudspeaker will follow this prototype, and if you're building an enclosure for a speaker, there are really only three things you need to know: the diameter of the hole you need to cut out, the depth of the speaker, and how far apart the screw holes on the flange are. I only need three dimensions here. I'm a simple man. I'm also extremely disappointed.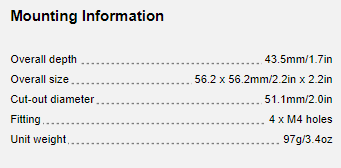 Celestion is a very highly regarded manufacturer of loudspeakers. They've been around for ninety years, they created the first metal-dome tweeter, and produce what is said to be the standard in guitar amp speakers. If you're in the loudspeaker industry, Celestion is where you want to be. Surely they can come up with datasheets and tech specs that would be useful, right? Think again. Their AN2075 loudspeaker lists the overall depth of the speaker, the cut-out diameter, and the overall size of the of the speaker. How far apart are the mounting holes? Screw you, that's how far apart they are. This isn't even 'drafting' or 'engineering drawing'. This is just incomplete information.
Celestion is not alone. Take a look at AliExpress. If you're looking for small, cheap speakers that can handle ten or fifteen Watts, you have thousands of choices. Virtually none of them will have the relevant information on their product pages. Yes, you'll usually get the dimensions of the flange, and you might get how deep the speaker actually is. You will rarely find where to put the screw holes on your project enclosure.
I'm not one to believe conspiracies. People are just too self-interested to be part of a cabal of evil bent on distorting the truth or ruling people. It's the media theory of Chomsky versus Žižek; self-interest rules all. People are too stupid to organize. This may be the best evidence yet that conspiracies exist. There must be a conspiracy between loudspeaker manufactures. None of them have dimensions of where the holes should go.
---
Example Three: Jacks
This project will also make use of DIN 5 connectors (but not as MIDI jacks), and these must be panel mount connectors. Nearly every DIN 5 connector you'll see on Mouser or Digikey is a right angle connector. That is to say, you solder the connector to the board, and the DIN 5 connector comes out at a right angle to the PCB. This isn't what I want — I want a connector sticking straight up out of a board. Yes, these connectors exist, but again we're left with incomplete dimensioned drawings, like the one I found on AliExpress below:
First, take a look at the photograph of the part. It's what you would expect for a DIN 5 connector. There are five pins, and an additional grounding pin for the shield of the connector, just like every other DIN 5 connector on the planet. Take a look at the drawing. It's actually not bad, and even gives me a preferred PCB footprint for five of the pins. But what about that grounding pin? It is absent on the dimensioned drawing. If you buy a thousand of these and run them through an assembly line, you'll quickly find you have to snip off all the grounding pins before populating them into boards. The data is just missing, and you're a fool if you engineer something directly from the drawings. You should be able to engineer something from the drawings, and this panel mount DIN 5 connector is a terrible product.
---
Any University That Has Dropped Their Drafting Class Is Doing A Disservice To Their Students
Since time immemorial until the late 90s and early 2000s, engineering drawing and drafting was a required course for all engineers. This is the class with T-squares and triangles and a hidden emphasis on developing fine motor control through lettering. Only a week or two of this class was devoted to dimensioned drawings, but this week is vital to all engineers. Your drawings are useless unless someone else can use them, and you can't do that without properly dimensioned drawings.
I don't know why I keep running into truly terrible dimensioned drawings. This is a required skill for all engineers, regardless if they're educated in China, England, or the US. Yet it's nonexistent everywhere except for the McMaster Carr catalog.
If you'd like to learn about how to make dimensioned drawings, I'd suggest picking up [French]'s Engineering Drawing. Yes, the book is 100 years old, but what it teaches hasn't changed in 200 years. This is how the draftsmen for the Apollo Lunar Module learned how to draw. Yes, lettering is hard if you don't have the right pencils and have underdeveloped fine motor control, but we're using computers now anyway. Read this book, learn how to properly dimension drawings, and stop annoying engineers who are trying to build stuff.