There are no shortage of Nerf gun mods out there. From simply upgrading springs to removing air restrictors, the temptation of one-upping your opponents in a Nerf war speaks to many!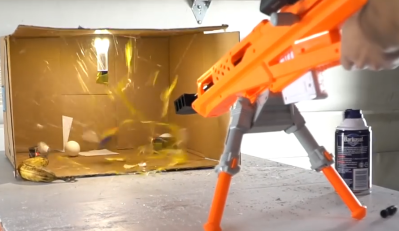 Not content with such lowly modifications [Peter Sripol] decided that his blaster needed to see some propane action.
[Peter] completely stripped out the existing firing mechanism before creating a new combustion chamber from some soldered copper pipe. He added a propane tank and valve on some 3D-printed mounts, and replaced the barrel to produce some intense firepower.
To ignite the fuel inside the combustion chamber, some taser circuitry creates the voltage needed to jump the spark gap inside whilst an added switch behind the trigger kicks off the whole process. After experimenting with different ignition methods, [Peter] eventually found that positioning the spark in the center of the chamber provided the best solution for efficient combustion and non-deafening volume.
Though highly dependant on the amount of gas in the chamber during combustion, the speed of the dart was able to reach a maximum of 220 fps – that's a whopping 150mph!
Next follows the obligatory sequence for all souped-up Nerf guns:  slow motion annihilation of various food items and beverage containers. To obtain some extra punch, some custom Nerf darts were 3D-printed, including one with a fearsome nail spear-head.
We strongly advise against taking up [Peter] on any offer of Nerf based warfare, but you can check out his insane plane adventures or last winter's air sled.