If you've ever had a particularly nasty fracture, your doctor may have prescribed the use of an electronic bone growth stimulator. These wearable devices produce a pulsed electromagnetic field (PEMF) around the bone, which has been shown to speed up the natural healing process in a statistically significant number of patients. That's not to say there isn't a debate about how effective they actually are, but studies haven't shown any downsides to the therapy, so it's worth trying at least.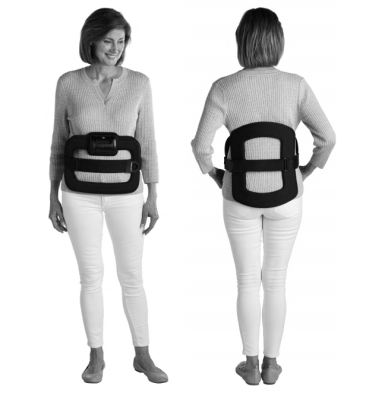 When you receive one of these devices, it will be programmed to only operate for a certain amount of time or number of sessions. Once you've "used up" the bone stimulator, it's functionally worthless. As you might imagine, there's no technical reason this has to be the case. The cynic would say the only reason these devices have an expiration date on them is because the manufacturer wants to keep them from hitting the second hand market, but such a debate is perhaps outside the scope of these pages.
The Orthofix SpinalStim you're seeing here was given to me by a friend after their doctor said the therapy could be cut short. This provided a somewhat rare opportunity to observe the device before it deactivated itself, which I'd hoped would let me take a closer look at how it actually operated.
As you'll soon see, things unfortunately didn't work out that way. But that doesn't mean the effort was fruitless, and there may yet be hope for hacking these devices should anyone feel like taking up the challenge.