There are very few legal ways of obtaining ROM files for video games, and Nintendo's lawyers are extremely keen on at least reminding you of the fact that you need to own the game cart before obtaining the ROM. With cart in hand, though, most will grab a cart reader to download the game files. While this is a tried-and-true method, for GameBoy games this extra piece of hardware isn't strictly required. [Travis Goodspeed] is here to show us a method of obtaining ROM files from photographs of the game itself.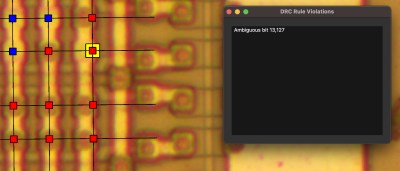 Of course, the chips inside the game cart will need to be decapped in order to obtain the pictures, and the pictures will need to be of high quality in order to grab the information. [Travis] is more than capable of this task in his home lab, but some work is still required after this step.
The individual bits in the Game Boy cartridges are created by metal vias on the chip, which are extremely small, but still visible under a microscope. He also has a CAD program that he developed to take this visual information and extract the data from it, which creates a ROM file that's just as good as any obtained with a cart reader.
This might end up being slightly more work especially if you have to decap the chips and take the photographs yourself, but it's nonetheless a clever way of obtaining ROM files due to this quirk of Game Boy technology. Encoding data into physical hardware like this is also an excellent way of ensuring that it doesn't degrade over time. Here are some other methods for long-term data storage.