Last time, I told you how to get started with the "Black Pill" STM32F411 board using the Mbed OS. The example program, admittedly, didn't use many of the features of the OS, unless you count what the USB serial port driver uses behind the scenes. However, this time, we'll make a practical toy that lets you adjust your PC's volume level with a pot.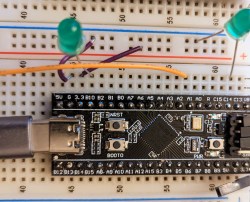 The Black Pill is a good choice for this application since it has analog inputs and can act as a USB keyboard. In fact, the Mbed OS has drivers for all kinds of USB devices. We've seen the serial port, but you can also look like a mass storage device or a mouse, for example. Just for practice, we'll create two threads of execution. One will read the pot and send a message over to the other thread. That thread will communicate with the PC as a USB keyboard. Any computer that understands media keys on a keyboard should work with the device.
Threads
Creating threads is very simple. For many cases, you just define a void function that takes no arguments and use it with a Thread object:
readknobThread.start(vol_thread);
Of course, the function shouldn't return unless you want the thread to end. As I mentioned in the last post, you can sleep with the ThisThread::sleep_for call. There is also a yield call if you simply want to give up the time slice without sleeping for a specific amount of time.
Continue reading "Arm Pumps Up The Volume With Mbed And A Potentiometer" →