If you grow up around a working blacksmith's forge, there are a few subjects related to metalwork on which you'll occasionally have a heated discussion. Probably the best known is the topic of wrought iron, a subject I've covered here in the past, and which comes from the name of a particular material being confused with a catch-all term of all blacksmith-made items. I've come to realise over recent years that there may be another term in general use which is a little jarring to metalwork pedants, so-called Damascus steel. Why the Syrian capital should pop up in this way is a fascinating story of medieval metalworking, which can easily consume many days of research.
Damascus? Where's That?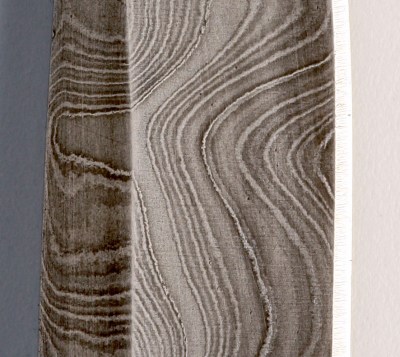 The Damascus steel you'll see in YouTube videos, TV shows, and elsewhere is a steel with complex bands and striations on its surface. It's often used in knife blades, and it will usually have been chemically treated to enhance the appearance of the patterns. It's a laminate material made by pattern welding layers of different steels together, and it will usually have been worked and folded many times to produce a huge number of very thin layers of those steels. Sometimes it's not made from sheets or ingots of steel but from manufactured steel products such as chains, in an attempt to produce a result with more unusual patterns.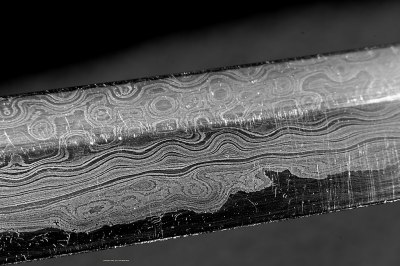 The point of making such a laminate goes beyond the patterns; like any such laminate the idea is to combine the properties of the different materials used. In this case an ideal knife must be hard enough to take a sharp edge yet also flexible and not brittle such that it does not crack or shatter when subject to stress, something the constituents of the laminate should be selected to deliver. In this way the smith is trying to replicate something like the laminates seen in a Japanese Katana sword, where thin layers of steel are formed on the surface of the iron in the smith's charcoal-fired hearth, which become alternating layers of steel and iron in a similar folding process.
Making these Damascus steels is a highly-skilled craft, and as you might expect a knife made this way is likely to be expensive, and pretty good at holding an edge, if that's what you're after in a knife. But are they really Damascus steel? Like the whole wrought iron question, there's something to get smiths talking.
Will The Real Damascus Steel Please Stand Up?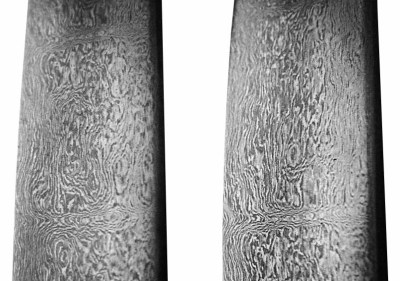 The phrase "Damascus steel" comes to us from medieval-period swords manufactured in the Middle East, and known at least to Western Europeans through their sale in Damascus. These swords share the surface patterning with the modern blades described above, and were legendary for the properties of the metal.
But their manufacture wasn't the same pattern-welded laminate, and neither did their steel come from Damascus itself. Instead they were made from ingots imported into the Arab world and made by ironmasters in modern-day southern India and Sri Lanka. The steel from those regions was so-called crucible steel, in which the steelmaking process takes place in a sealed crucible in the liquid phase rather than in the solid or semi-solid phase as in for example on the surface of the Japanese Katana steel. The particular impurities found in the ores from these regions gave rise to a very high-carbon steel with significant quantities of carbide inclusions, and it was these which lent the finished product its patterned appearance.
The Point Is In The Forge Work
So if the original Damascus steel is derived from a particular medieval steelmaking process from a specific region and the modern Damascus steel is a pattern-welded laminate of different steels, which is the real Damascus steel? As a language purist I'd err towards the original, but that's not to dismiss the value of the modern pretender. It's worth getting hot under the collar about the use of the phrase "wrought iron" because the real thing is something special while the fakes are often mass-produced rubbish, but that's not the case with Damascus steel.
The modern Damascus steel knife may never have been near Damascus and certainly won't be made from Indian or Sri Lankan crucible steel, but just like the blade you'd have bought in medieval Damascus, it represents the skill and work of a blacksmith at the peak of their craft. Pattern welding steel to make a laminate is hard, I've tried it and I can tell you it's not for the dilletante smith. Anyone who can do that to a high standard is worth paying very good money indeed for their work.
Header image: "Damascus steel hunting knife" by Rich Bowen