[ch00f] was searching for an idea to build for his father this Christmas, and cast his gaze across those novelty phone charging cables that have "flowing" LEDs along their length. Not one to stick to the small scale, he set out to create a flowing LED effect for a Tesla EV charger.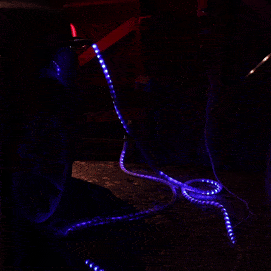 The basic components behind the build are a current transformer, a NeoPixel LED strip, and an ATtiny44 to run the show. But the quality of the build is where [ch00f]'s project really shines. The writeup is top notch — [ch00f] goes to great lengths showing every detail of the build. The project log covers the challenges of finding appropriate wiring & enclosures for the high power AC build, how to interface the current-sense transformer to the microcontroller, and shares [ch00f]'s techniques for testing the fit of components to ensure the best chance of getting the build right the first time. If you've ever gotten a breadboarded prototype humming along sweetly, only to suffer as you try to cram all the pieces into a tiny plastic box, you'll definitely pick something up here.
Perhaps you'd like to check out this teardown of a Tesla Model S battery. Video after the break.