Monday | 24 October 1927 | Brussels
While the official title of the 5th Solvay conference was "on Electrons and Photons", it was abundantly clear amongst the guests that the presentations would center on the new theory of quantum mechanics. [Planck], [Einstein], [Bohr], [de Broglie], [Schrodinger], [Heisenberg] and many other giants of the time would be in attendance. Just a month earlier, [Niels Bohr] had revealed his idea of complementarity to fellow physicists at the Instituto Carducci, which lay just off the shores of Lake Como in Italy.
The theory suggested that subatomic particles and waves are actually two sides of a single 'quantum' coin. Whichever properties it would take on, be it wave or particle, would be dependent upon what the curious scientist was looking for. And asking what that "wave/particle" object is while not looking for it is meaningless. Not surprisingly, the theory was greeted with mixed reception by those who were there, but most were distracted by the bigwig who was not there – [Albert Einstein]. He couldn't make it due to illness, but all were eager to hear his thoughts on [Bohr's] somewhat radical theory. After all, it was he who introduced the particle nature of light in his 1905 paper on the photoelectric effect, revealing light could be thought of as particles called photons. [Bohr's] theory reconciled [Einstein's] photoelectric effect theory with the classical understanding of the wave nature of light. One would think he would be thrilled with it. [Einstein], however, would have no part of [Bohr's] theory, and would spend the rest of his life trying to disprove it.
Complementarity – Wave , Particle or both?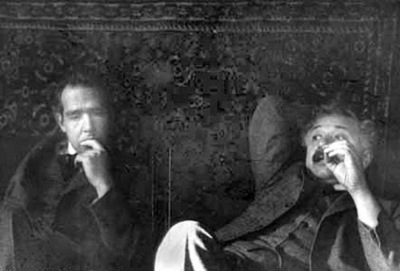 For more than a century it was thought that light was a wave. In 1801, [Thomas Young] had discovered interference patterns when shining a light through two very close slits. Interference is a well known property of waves. This combined with [Maxwell's] equations, which predicted the existence of electromagnetic radiation put little doubt into anyone's mind that light was nothing more, or less, than a wave. There was a very odd issue, however, that puzzled physicists during the 18th century. When shining light upon a metallic surface, electrons would be ejected from that surface. Increasing the intensity of the light did not translate to an increase in speed of the expelled electrons, like classical mechanics says it should. Increasing the frequency of the light did increase the speed. The explanation of this phenomenon could not be had until 1900, when [Max Planck] realized that physical action could not be continuous, but must be a multiple of some small quantity. This quantity would lead to the "quantum of action", which is now called [Planck's] constant and birthed quantum physics. It would have been impossible for him to know that this simple idea, in less than two decades, would lead to a change in understanding of the nature of reality. It only took Einstein, however, a few years to use [Planck's] quantum of action to explain that mind-boggling issue of electrons releasing from metal via light and not following classical law with the incredibly complex equation:
E = hv
Where E is the energy of the light quanta, h is Planck's constant and v is the frequency of the light.  The most important item to consider here is this light quanta, later to be called a photon.  It is treated as a particle. Now, if you're not scratching your head in confusion right about now, you haven't been paying attention. How can light be a wave and a particle? Join me after the jump and we'll travel further down this physics rabbit hole.
Continue reading "Quantum Mechanics In Your Processor: Complementarity" →