It was early 1983 and Françoise Barré-Sinoussi of the prestigious Pasteur Institute in Paris was busy at the centrifuge trying to detect the presence of a retrovirus. The sample in the centrifuge came from an AIDS patient, though the disease wasn't called AIDS yet.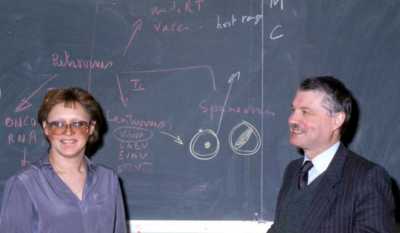 Just two years earlier in the US, a cluster of young men had been reported as suffering from unusual infections and forms of cancer normally experienced by the very old or by people using drugs designed to suppress the immune system. More cases were reported and US Centers for Disease Control and Prevention (CDC) formed a task force to monitor the unusual outbreak. In December, the first scientific article about the outbreak was published in the New England Journal of Medicine.
By May 1983, researchers Barré-Sinoussi and Luc Montagnier of the Pasteur Institute had isolated HIV, the virus which causes AIDS, and reported it in the journal Science. Both received the Nobel prize in 2008 for this work and the Nobel prize citation stated:
Never before have science and medicine been so quick to discover, identify the origin and provide treatment for a new disease entity.
It's only fitting then that we take a closer look at one of these modern detectives of science, Françoise Barré-Sinoussi, and what led to her discovery.