If you were to create a short list of women who influenced software engineering, one of the first picks would be Margaret Hamilton. The Apollo 11 source code lists her title as "PROGRAMMING LEADER". Today that title would probably be something along the line of "Lead software engineer"
Margaret Hamilton was born in rural Indiana in 1936. Her father was a philosopher and poet, who, along with grandfather, encouraged her love of math and sciences. She studied mathematics with a minor in philosophy, earning her BA from Earlham College in 1956. While at Earlham, her plan to continue on to grad school was delayed as she supported her husband working on his own degree from Harvard. Margaret took a job at MIT, working under Professor Edward Norton Lorenz on a computer program to predict the weather. Margaret cut her teeth on the desk-sized LGP-30 computer in Norton's office.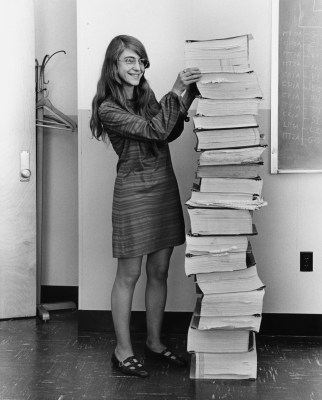 Hamilton soon moved on to the SAGE program, writing software which would monitor radar data for incoming Russian bombers. Her work on SAGE put Margaret in the perfect position to jump to the new Apollo navigation software team.
The Apollo guidance computer software team was designed at MIT, with manufacturing done at Raytheon. To say this was a huge software project for the time would be an understatement. By 1968, over 350 engineers were working on software. 1400 man-years of software engineering were logged before Apollo 11 touched down on the lunar surface, and the project was lead by Margaret Hamilton.
Continue reading "Margaret Hamilton Takes Software Engineering To The Moon And Beyond" →