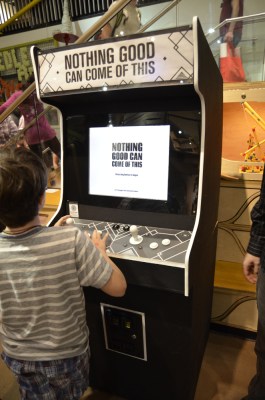 Video arcades may be a thing of the past, but they're still alive, well and were ready to play at this year's World Maker Faire. The offerings weren't old favorites, all were brand new games many being shown for the first time like the long-awaited VEC9. The Hall of Science building was filled with cabinets and no quarters were necessary, all were free-play.
Death By Audio Arcade was there in force with games like Particle Mace and Powerboat Italia '88. Our personal favorite was Nothing Good Can Come of This. [Michael P. Consoli] devised a simple game: Two players in an empty room. A bullet drops from a hole in the ceiling, followed by a gun shortly thereafter. What happens next is up to the players. The simple graphics and gameplay give this title its charm. [Michael] was showing off a new stand-up cabinet for the game this year. He built the entire thing himself, working until the wee hours before load-in at Maker Faire.
[Batsly Adams], [Todd Bailey], and [Mike Dooley] teamed up to create what may be the first new vector arcade in decades. VEC9 has been teased for over 2 years. They've finally wrapped this game up and showed it off at the faire. VEC9 started with an old
Asteroids vector monitor found by [Batsly].