Did you ever commit any pranks in your time at high school, college, or university? Maybe you moss-painted a rude word on the wall somewhere, or put a design in a sports field with herbicide, or even worse, slow-release fertiliser. [Roman Kozak] and his friends went far further than that last summer when they replicated some of the most famous student pranks; they put a Jaguar S type car on the roof of their school. And now the dust has settled, he's posted an account of how they did it.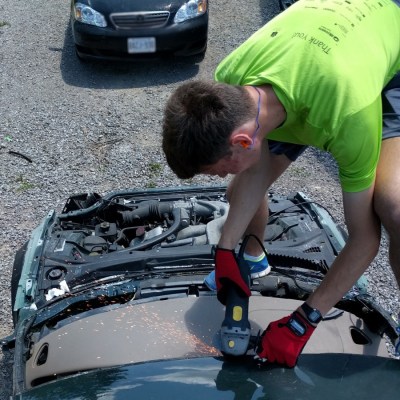 Of course, putting a car on the roof is a significant challenge, particularly when you only have the resources of a high-school student. Ensuring the roof was strong enough for a car, and then hiring a crane to do the deed, was beyond them. They therefore decided to take the wheels and outer body panels of a car and mount them on a wooden frame to give the appearance of a car.
They needed a statement vehicle and they didn't have a huge budget, so it took them a while to spot a for-parts Jaguar S type which when it came into their possession they found only had a fault with its reverse gear. Some hard work removed the panels, and the rest of the car was taken for scrap.
Frenetic work as the term end approached gave them their frame, and a daring midnight raid was mounted to winch the parts to the roof with a pulley. The result was so popular with their classmates and teachers that they owned up to the prank rather than preserve their anonymity. We think these young scamps will go far.
This is definitely the first car-on-roof prank we've brought you on Hackaday, but it's not the first to be done. [Roman] and his friends cited an MIT prank as their inspiration, but the daddy of car-on-roof stunts has to go to Cambridge University students in the 1950s. Their Austin might be a lot smaller than the MIT Chevy or [Roman]'s Jag, but they got it onto their roof in one piece as a full car rather than a facsimile of one.
Important note: The author would like to state for the record that she and her friends were somewhere else entirely and had solid alibis when in summer 1993 the logo of Hull University Union Technical Committee appeared in the lawn outside Hull University Union. We're sure that commenters will be anxious to set their own records straight for posterity in a similar manner.