When buying anything, you're going to have a choice: good, fast, or cheap. Pick any two. A plumber will fix a drain good and fast, but it won't be cheap. The skeezy guy you can call will fix a drain fast and cheap, but it won't be good.
Such it is with radios. You can have long-range (good), high bandwidth (fast), or a low price (cheap). Pick any two. The Internet of Things demands a cheap, long-range radio module, but until now this really hasn't existed. At Electronica last week, Microchip demoed their IoT solution, the LoRa. This module has a 15km (rural) or ~3km (heavy urban) range, works for a year on two AAA batteries, and is very cheap. Bandwidth? That's crap, but you're not streaming videos to your shoe.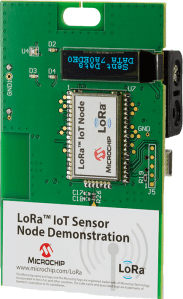 The LoRa uses a bit of frequency somewhere below 1GHz to communicate with a base station. This base station serves as a bridge for these chips and devices to the Internet. You don't have the range of WiFi or Bluetooth, either: For the duration of Electronica, the entire eastern half of Munich was covered by exactly six base stations. One base station handled the city center.
This isn't a first of its kind device – a few folks in Cambridge are working on Weightless, a similar small & cheap radio with terrible bandwidth that communicates with base stations. Weightless is the only protocol so far that isn't proprietary, but TI, Sigfox, Semtech, and a whole lot of other companies are pouring money into devices like this. This is a huge market, and you simply would not believe the amount of time, engineering, and money that is going into these systems.
Is Microchip's LoRa the future of the Internet of Things? That's something for the market to decide. However, GSM will never be low power or cheap, WiFi will never be low power enough, and Bluetooth will never have the range. In a few years, something like LoRa will be found in all those Things for Internet we haven't been able to build until now.
Here's a link to the devices in Munich that are still around a base station. My device is 1A 37 64. Find me.