We capped off day-2 of the Hamvention with an unexpected rain shower, and some arcing back in the hotel room.  Historically, Saturday is the best attended day of the show.  As normally, we spent most of the day outside in the flea market.  One of our friends allowed us to use his AN/GRC-9 army surplus radio to check into one of the nets.  The radio was powered by hand-crank.  Later, we attended a forum on the construction of HF antennas for camping trips, and obtained parts for our project back in the room. More about that later?  Overall, a great day.
The antennas were out this morning at Hamvention, radio waves were in the air.  We bumped into some other Hackaday fans, including [Jenniffer Estrada], who is working on low power radar and software defined radio projects.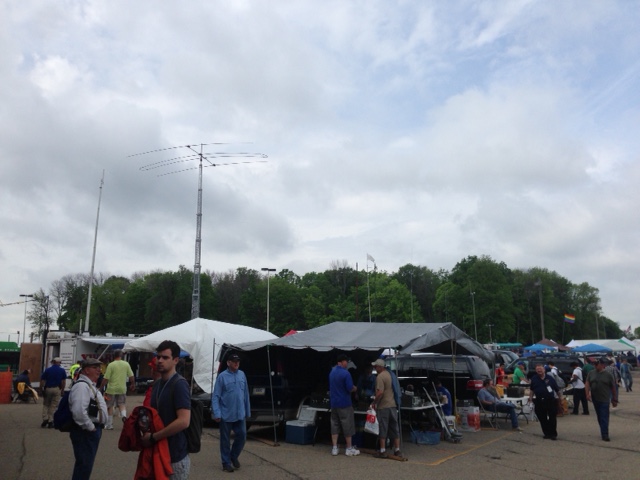 Repairing then hacking the radio gear on the USS New Jersey
Members of the Battleship New Jersey Amateur Radio Station restored the communications sections of the USS New Jersey (BB-62) to operational capacity, and put the ship's radio room on the ham bands.  The group has connected functional equipment to the five original antennas, and made the ship's radio rooms operational, while remaining as historically correct as possible.  Find out more at www.nj2bb.org
One of the notable hacks to the USS New Jersey radio room by this group was to make the ship's old digital communication system display PSK31 messages automatically from amateur radio operators from all over the world (see photo above with the green-screened computer terminal displaying PSK31 messages).
Click past the break for more from Hamvention!
 Amateur radio in space
Not well-known outside of the Amateur radio community, hams have been building and putting satellites into orbit since the 1970's.  They act like repeaters in orbit, allowing any two stations in their footprint at the same time to talk?  CubeSats are the latest innovation, putting full features into tiny packages.
 Green radio bonanza
The military packset/green radio group is one of the fastest growing subcultures of the hobby.  Normally, toting around tens of pounds of (sort of) obsolete gear on ones back is considered military labor, but hams enjoy a good challenge.  Operating in field conditions, sometimes with just a few watts of power forces us to focus on the craft of radio, rather than increasingly feature-rich appliances.
Technical seminars
The Hamvention sponsors short, 1-2 hours seminars on topics of interest to the amateur community.  This year, topics range from getting started working satellites, to digital modes of operations, antennacraft, emergency communications, and antennas you can bring with you when you take your radio camping.  The show featured a live talk and Q&A with astronaut [Michael "Mike" Fincke].
While attending the "HF Antenna Construction" seminar we learned about a new low-cost ($25 is the goal) network analyzer that had been created and tested as a prototype, where a Wheatstone bridge and a simple digital signal source were used for the measurement.  This device would be for amateur use, where dynamic range is not too critical.
Educational outreach
The ARRL education and technology program is open to high school teachers to learn how to show students how wireless technology works in very practical scenarios.  In this example, students and teachers built a marine research buoy using amateur radio to communicate environmental data over long distances data back to land.
The national Voice of America museum was on site showing their latest interactive demonstrations of electromagnetics and electricity in action.  Below are a number of Faraday motors and an interactive hand-generator game, just two examples of the science exhibits at the Voice of America broadcasting museum.
Men in kilts selling antennas
Antennas? Check.  Kilts?  Check.  Antennas by Radiowavz (www.radiowavz.com) and their colorful retail staff. One of the authors [Scott, KC8KBK] uses one of their products in his home and has talked to stations from South America, to Eastern Europe.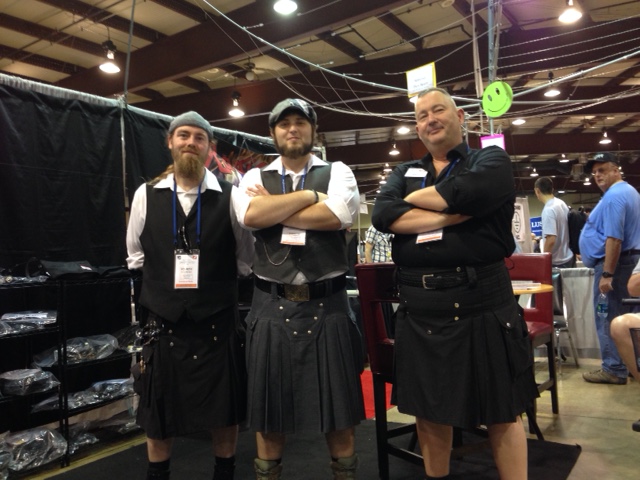 New test gear for all
Not only is the Hamvention a venue to show the latest radio and antenna gear, it is also the place to find the very latest test equipment including.  Seeed was showing their new line of small low-cost spectrum analyzers and signal generators along with other larger companies such as Rigol and many more.
Last day of Hamvention is tomorrow
It's now or never for vendors to sell that last boat anchor and for attendees to find that piece of gear they can not live without.  Many deals and interesting stories to be had tomorrow for those willing to negotiate, dig around, and haul heavy things back to their cars.