The sweltering heat had finally moved on and Giant Tick season was coming to a close (not kidding, they are HUGE here), when I decided to fire up my hacked together blacksmith forge made out of an old bathroom sink and aquarium stand.
In the age-old formula I needed to supply an air source to a fuel to create enough heat to make iron malleable. I got the idea that this particular bathroom sink might be a good candidate for a fire bowl after I banged my shin with it and then cursed at it. It was clearly made of cast iron and as proof it was clearly unfazed by my tirade of words which I hope my son has learned from the Internet and not from listening to me remodel the bathroom.

You've heard of Carbon-14 dating? I was able to judge the age of this particular sink using "1970's Color Swatch" dating; the powder blue puts it somewhere in the mid-to-late 1970s… Apparently the sinks were made of cast iron and not Melamine™ back then.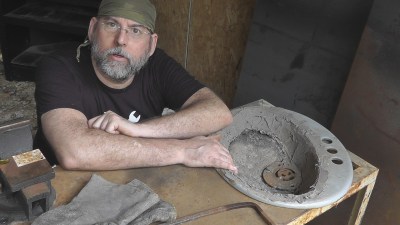 The aquarium stand itself had actually been in use. As luck would have it, the last Kissing Gourami fish passed on after a prolonged deathwatch. Funny that the last of a full tank of fish can die off over the course of a year, and yet take another year for the very last fish to expire. Meanwhile the pump has to be kept running, the water cleaned, and the cats shooed away.
In short, the aquarium stand had just freed up. I figured if it could hold a 250lb 30 gallon tank containing a 2 oz. fish it should do just fine as a forge base. I married it up with a hefty piece of steel for the top, my guess is about 3/16" thick based on measuring the width of a scar on the back of my leg that I got when brushing up against the corner of it a couple of years back.
The plumbing came from my junk pile — I have a habit of buying stuff at Home Depot which is immediately thrown in my junk pile so that one day when I do go to use it I feel like I have recycled something. The T-joint connected to the sink's drain hole provides an ash and debris clean-out by uncapping the bottom opening. The middle opening is fed by an AC air blower on a dimmer switch. I am using a squirrel cage blower that I got from Grainger (yes, it sat in my junk pile too and now I've rescued it). Many people use a hair dryer; in my case I no longer have hair and my last dryer I used in a Plexiglas™ bender after watching [Jeri Ellsworth's] video many years ago.
Put the Cement in the Sink
The trick is to melt the stock iron, but not the iron bowl so I lined the sink with refractory cement. My first batch of refractory cement came from a bag of refractory cement powder from a local sand, cement, and gravel quarry outlet.
I mixed the cement and applied to the inside of the bowl some time ago. This year when I moved the forge into my new building (it was the building before this that cost me a finger) I realized that some of the sandy cement mixture had been washed away; probably during a recent hurricane (we have had a couple of hurricanes go directly overhead recently including Sandy). This time I went to the local hardware store and grabbed a container of premixed refractory cement… or maybe it was Amazon. A quick slather and set and I had a pretty reasonable coating protecting my powder blue sink.
Finally the piece that I purchased on this redo of the forge is the metal piece that covers the air inlet known as the tuyère which is spelled tuyère but is otherwise unpronounceable. I do know people that think they know how to pronounce it, they are mostly wrong.
Finally the coal: basically you want, you need, blacksmithing coal. If one were to burn the coal used by the power industry one would find one's self on one's back from the sulfurous fumes (and other carcinogenic chemicals best left to the big power plants to release into our atmosphere). I got my first batch from a blacksmith in Delaware where I bought my anvil, sadly the container it was in was not hurricane proof and I found a bog-like watery sludge when I started to shoot this video the first time.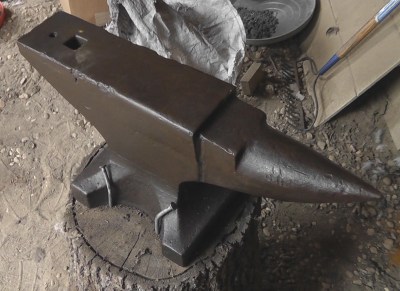 This last batch of coal I bought online from Centaur Forge. Their shipping was included, which is something to check so that you don't effectively double the cost of a bag of coal. The chunks are between ¼" and ¾" where I was used to ¼" to ½" but otherwise it burns clean, very low sulfur and metal bends in its presence when heated.
Starting the fire is still somewhat of a pain. Many people use newspaper and coal dust, some use pine needles, I use lighter fluid. Even with half a bottle of Kingston™ I found that you still have to make a pocket in the coal that has direct air flow from the blower and allows the edges of the coal to catch. The sign that the coal really is catching is that smoke starts to waft up and has a slight green tinge to it, possibly one reason it's called green coal.
There are a couple of byproducts of the coal burning process other than the occasional blister: "coke", a purer form of carbon, and "clinkers", the byproduct of the impurities. Coke can be strategically moved to make a hotter fire and help impart carbon to iron (carbon+iron=steel) or to help start a fire (coke+lighter fluid =fire). Clinkers kind of look like coke, they are mostly black, clumpy things, which will actually choke a fire if not removed. They do make a clinking noise when struck due to the amalgam of carcinogens and metal-like residue.
As shown here I grab a rather thick piece of steel and trying to get the right amount of steel in the right amount of fire. They tell you not to wear gloves when blacksmithing so that you get used to not burning yourselve. Believing that I also can't really burn myself while wearing gloves, check out the wisp of smoke that comes off them while I am talking and touching the hot metal. Too much focusing on my video diatribe.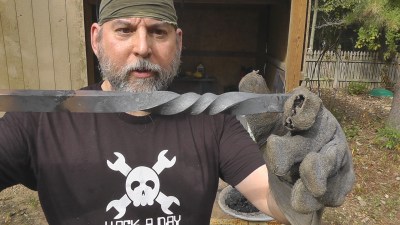 Here you can see the steel after I gave it a good twist. It took very little effort especially compared to any chance of twisting the metal while cold. I also demonstrate that all metal is hot even though it looks cold, wearing the gloves paid off since I would not normally tap a freshly heated piece of metal while talking.
Meanwhile the peanut gallery, taking a break from tick eating, looks on.
If I had a pond and a creek in my back yard like I did while working at Commodore in the '80s I would probably be fishing instead of banging hot metal in my spare time. I live in New Jersey however and the water here is referred to as "cedar water" meaning it's not something you want to get on you (I stained a shirt permanently when I fell in one time) and any fish that can survive in it tastes like pine needle sap. Since giant tick wrangling ain't really my thing either, I opted for burning metal. Anyone interested in a video on MIG/TIG welding let me know.
If bending real metal instead of that semi-conductor transition metal stuff sounds interesting you can find lots of online resources and books including abana.org (Artist-Blacksmith's Association of North America). Heck I did it with a bathroom sink and an aquarium stand.