The general process of circuit board assembly goes like this: You order your PCBs. You also order your components. For surface mount components, you apply solder paste to the pads, put the components on top, and then heat the board up so the solder paste flows and makes a bond. Then for through hole components you put the leads through the holes, and solder them with an iron or a solder wave or dip. Then you do an inspection for defects, program any microcontrollers, and finally test the completed board to make sure everything runs.
The tricky part is in volumes. If you're only doing a few boards, it's usually easiest to assemble them by hand. In the thousands you usually outsource. But new tools, and cheap hacked tools, have made it easier to automate small batches, and scale up into the thousands before outsourcing assembly.
In this new series which we're calling Tools of the Trade we'll be covering a variety of tools used for building products, and we're starting with circuit board assembly. Let's investigate our tools of the trade: solder paste dispensing.
The general theory is that you want to take a tub (or syringe) of solder paste, which is basically a gooey suspension of flux and solder, and apply it to just the pads of the PCB in a consistent thickness. It turns out there are a lot of ways to do this.
Hand Syringe
The absolute easiest way to put solder paste on a PCB is just using the syringe and carefully placing a small blob on the pad. No extra tools required.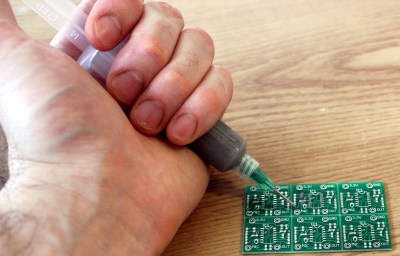 On microcontrollers with a small pitch, you can get away with a small bead along the length of the side, and generally the paste will flow right to the pads and separate without much bridging. The downside to this very quick and easy method is that the syringe isn't easy to press with your thumb. It can get tiring with a large board, and your hands become cramped arm stumps. Some have gotten around this by using a linear rod and switch to do the pushing action, which is a nice solution, but I'd argue that by the time you get to the point where you need this solution, you should be upgrading to something else.
Automated Syringe
Others looked at pick and place machines, which can put the components down in exactly the right spot, and 3D Printers, which are cheap and easy to build and are really good at extruding stuff. They figured: why not have a 3D printer put the paste down? A few companies have tried this, with a couple going so far as to lay down the whole PCB and traces as well. This is great for small volumes and prototypes, and the integration with PCB layout software makes it a pretty smooth transition from computer design to pasted board.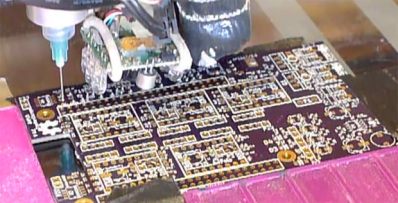 The problems with syringes, though, are that they are slow and imprecise. It's difficult to control the amount of paste that is dispensed, and if the nozzle is small enough for fine pitch components, it won't be able to dispense on larger pads quickly. Holding the syringe in the hand warms it up to the point it oozes out on its own, but if it's not warm enough (because you store it in the fridge for longevity), then getting it out of the syringe is like doing a bench press with your thumb, and automated syringes have similar problems. This unknown viscosity makes it very difficult to automate the dispensing with any degree of precision. So let's move past the syringe and onto the screen.
Screens
The idea behind a screen is to have a thin material that has holes where you want the paste. You take a blob of solder paste and a squeegee and get the paste into the holes. Aligning the screen over the circuit board and keeping it aligned is a little tricky, but the application is very fast, and doesn't really matter whether the board is densely populated or has only a few components, so it is extremely efficient as a paste application method.
3D Printed Screen
Yes it is possible. You can make a .1mm thick layer which is the right thickness, but it's really only good for large pads when you have a lot of them on a dense board. Otherwise do something else.
Mylar Screen
This method involves a laser cut mylar sheet around .005″ thick. If you have access to a laser cutter and are only doing a few boards, then this method is fantastic (read the comments especially). You export the paste layer to a DXF, import into your cutter, and go. Care should be taken on a few things; focus needs to be spot on or else your corners won't be very good, and power level needs to be high enough to get rid of the mylar but not so high that it melts the edges. I've also found that engraving works better than cutting because it just blasts away the parts you don't want and doesn't spend any time dwelling where it will melt the edge.
The downside to this method is that the screens are delicate. For fine pitch you are better off just making a rectangle the size of the whole side because the separators on the individual pads will break. I have successfully reused a mylar screen up to about 100 times, but you shouldn't expect to use it more than 25-50 before the stress of the squeegee eventually breaks it down.
If you don't have a laser cutter, there are services online that will make your mylar screen for you.
Aluminum Can Screen
We have covered the next step up from mylar, the etched aluminum can or the milled aluminum can. This gives you a strong metal screen for the cost of the coke and acid or mill. There are two obvious problems with this method, though; you are limited to a board the size of a can, but you also have to figure out how to turn a cylinder into a flat sheet that likes to stay flat.
Stainless Steel Screen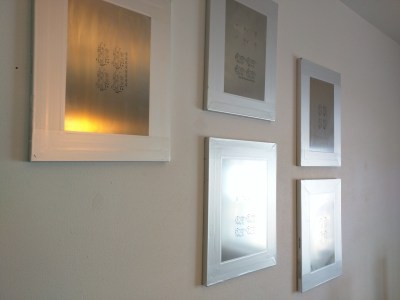 Some PCB manufacturers are starting to offer stainless steel laser cut screens shipped with the boards, and for a few extra bucks they'll even come in an aluminum frame. For the cost and effort saved, this is by far the best option. The screens last forever, they are extremely precise, and it's the technology the big boys use in the factories. This is where commercial methods have really become accessible to the hobbiest. I'd offer some downsides, but there are none. They even make great wall art.
Applying Paste To The Screen
Assuming you have a screen, there is quite a bit of technology around putting the paste onto the board with the screen. The easiest way is to use tape to hold things in place while you squeegee. Just tape a bare circuit board down, then tape the screen over it. A squeegee can be anything from a razor blade (my favorite) to a putty knife, or even an old hotel key, which works surprisingly well.
When you get to a point where volume is important, there are screen printing jigs that will hold the screen. They can be hard to tune for a perfectly flat and repeatable pasting experience, but they do the job. Fortunately positional accuracy doesn't have to be absolutely perfect as the solder will flow to the pads. In factories they will often use an automated machine to apply the paste with a squeegee. These machines are inline, too, which means you put a bare PCB in a slot in the side and it goes on a conveyor belt through the machine and out the other side directly into the pick and place machine.
Once you've got the paste on the board, it's time to place the components, and that's the topic for the next article.