In our previous issues in this series on making circuit boards, we covered placing solder paste and placing components. Now it's time to bake our cake!
There are a variety of methods for reflowing a circuit board, but they all rely on a single principle: heat up the solder paste (a mixture of flux and solder) until the flux burns off and the solder becomes liquid, and then cool it down. Accomplishing this once or twice is easy; once you've played with a hot plate you'll swear off through hole. Scaling it up and doing it repeatedly with high yield is extremely challenging, though.
Hot Plate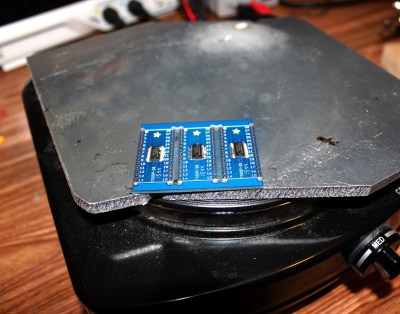 Starting off with the most basic tools available we have the hot plate or griddle method. This involves an electric hot plate ($20 investment). Usually around medium heat is a good setting for most of these plates, and you know it's ready when you can put some solder on it and it turns to liquid. Then you place the board on the hot plate and wait and watch until everything has flowed, then wait a little longer until most of the flux has burned off, then you take it off the plate. Generally you want to move the PCB around with tweezers or needle-nose pliers during this process, as there will usually be hot spots and you want everything to flow at roughly the same time. DO NOT use the fancy science hot plates with the magnetic stirrers in them. When the paste starts to flow the reduced friction will allow certain components, especially inductors, to fly across the board as they are attracted to the magnet, causing a hot mess. It's also helpful to have a piece of wood or metal to transfer the PCB to after reflow, as it will be very hot and you don't want to set it down on a kitchen counter. Finally, I like to have a 1/4″ aluminum plate on top of my hot plate to even out the temperature and provide a smooth surface. Another neat trick is to place a small chunk of aluminum or other metal on top of the hot plate and reflow only a certain section of the board. This is particularly useful if you need to remove a microcontroller from an already assembled board but don't want to reflow the whole board.
This process can be quick; only a couple minutes for the board to reflow completely. The downside is it requires constant attention, and unless you are doing something else to preheat the boards, you're not putting them through anywhere near the proper temperature profile, meaning that they may develop stress fractures as they cool, or the flux won't burn off completely. Other long term issues may crop up in higher volumes. Still, it's a personal favorite.
Hot Air
Graduating up in equipment is the hot air method. Here you would use a hot air rework station and carefully wave it over the PCB until it reflows. Don't hover too long over any particular part as it could burn, and don't get too close or the air might blow it off the pads. Really this method is only good for a few boards at most. It's time consuming and tiring to hold, and the rework station is really only meant for rework, not whole boards.
Toaster Oven
The next level is the toaster oven, and beyond that is the toaster oven rebuild. Most toaster ovens are capable of getting to 450F, which is right at the top of the reflow profile for lead free solder, meaning it's possible for leaded as well. It's important that convection takes place, so there needs to be a fan that's running inside to circulate the air, and the elements need to be capable of ramping up the temperature fast enough. Some toaster ovens are underpowered and can't get hot enough fast enough, meaning the flux will burn off before the solder flows, and then it does not flow well at all.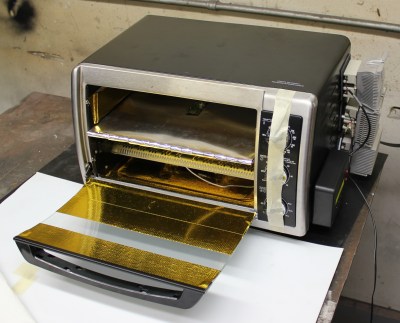 Some people like to make minor modifications to the oven (like bypassing the wiring for the fan so that it's always on) and then just use quick settings like "frozen treats" to approximate a profile, and this works if you will be babysitting and watching for it to flow. Others go the automation route, removing the electronics or other controls and putting in PID controllers and thermocouples so that a consistent reflow profile can be had. Now it's just a matter of putting the PCB in, pressing a button, and waiting for it to finish. Since the top of the toaster oven is usually very hot, it's a good surface for preheating the next boards or cooling the just-finished ones.
Tabletop Oven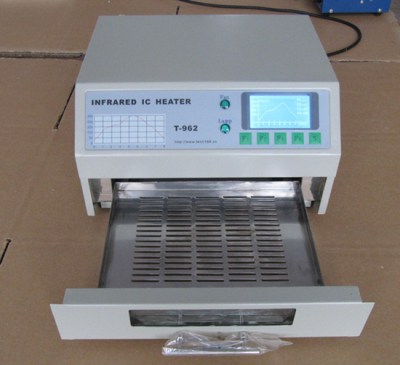 Now we are getting into the professional equipment, and the first kind is the desktop reflow ovens. The most common one among hobbyists and small businesses is the T962A. It uses IR as the heating method, meaning dark parts heat up faster. It also has air flow and usability issues, which is why there's a secondary market for new controllers and upgrades for this machine (which we covered).
There are other models available, but they're hardly better than the modified toaster ovens. If you don't want to futz with modifying a toaster, but you don't have the space or volume, then the desktop reflow oven is ok, but it's difficult finding a good one.
Conveyor Zoned Oven
The factories use reflow ovens with conveyors and multiple heating zones. Just like the fancy pick and place machines have a conveyor that takes in PCBs on the left and spits them out populated on the right, the reflow ovens connect up to the pick and place output and convey the PCBs through the oven, with each heating zone representing a different part of the reflow profile, spitting cooled and completed boards out the other end. Having zones means a continuous operation takes place and it doesn't require constant monitoring by a person, plus the machine doesn't have to waste energy heating up only to try to dump all that heat at the end of a single cycle. Keep in mind, though, that these machines are typically in the $100k and above range, and occupy space the size of a car, in addition to pretty hefty electricity bills.
Other Considerations
Do not use these tools for food afterwards. Neither lead nor flux is healthy. Also make sure you have adequate ventilation, especially if you are doing lead-free work. Again, the flux.
There are a few factors that make repeatability challenging, and some ways to design boards to get around them. Ever wonder why thermal reliefs exist on pads that are connected to pours? It's because it makes soldering easier and more consistent, and if two pads flow at different times then it can cause something called a tombstone, where the component sticks on one side but not the other and sticks up vertically.
Paste is a huge variable, and people can have wildly different results based on what paste they use. The stencil is extremely important as well, as different aperture size and stencil thickness means different amounts of paste dispensed, which means more likelihood of bridging when there is too much solder. The ramping speed/profile is useful to know as well, especially when you are doing things like the hot plate where you have to eyeball the profile. The reflow stages include the following steps:
Preheat – Warm up the board from room temperature to 150C. For a minute or two.
Soak – Let it hang out below the melting temperature for a minute or two. This dries out the board and gets everything to an even temperature. If parts are hotter than others, then the solder won't flow evenly and tombstones are likely.
Ramp – Bring it up to the reflow temperature and let it hang out until all the solder has flowed and the flux has mostly burned off. This should take about a minute.
Cooldown – Once it has peaked and everything has flowed and the flux has burned off, cool it down fairly rapidly but not too fast. If you hear crackles as the board cools, it's cooling too fast and tiny stress fractures are happening. These fractures have the potential to break joints or even the components themselves. This should take about a minute.
Try to match that and you'll be fine.
Reflowing is a fun experience when you can watch as the paste turns from dull gray to shiny silver, and all the components float and snap into place. It's surprisingly easy and forgiving in small batches. Give it a shot!