In the 1980s, Poland was under the grip of martial law as the Communist government of General Wojciech Jaruzelski attempted to repress the independent Solidarity trade union. In Western Europe our TV screens featured as much coverage of the events as could be gleaned through the Iron Curtain, but Polish state TV remained oblivious and restricted itself to wholesome Communist fare.
In September 1985, TV viewers in the city of Toruń sat down to watch an action adventure film and were treated to an unexpected bonus: the screen had a brief overlay with the messages "Solidarity Toruń: Boycotting the election is our duty," and "Solidarity Toruń: Enough price hikes, lies, repression". Sadly for the perpetrators, they were caught by the authorities after their second transmission a few days later when they repeated the performance over the evening news bulletin, and they were jailed for four months.
The transmission had been made by a group of dissident radio astronomers and scientists who had successfully developed a video transmitter that could synchronise itself with the official broadcast to produce an overlay that would be visible on every set within its limited transmission radius. This was a significant achievement using 1980s technology in a state in which electronic components were hard to come by. Our description comes via [Maciej Cegłowski], who was able to track down one of the people involved in building the transmitter and received an in-depth description of it.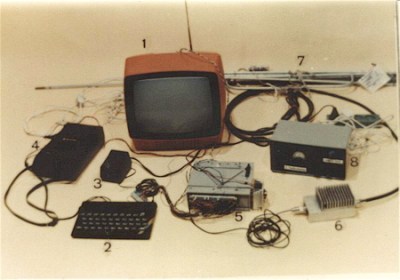 The synchronisation came courtesy of the international effort at the time on Very Long Baseline Interferometry, in which multiple radio telescopes across the world are combined to achieve the effect of a single much larger instrument. Before GPS made available a constant timing signal the different groups participating in the experiment had used the sync pulses of TV transmitters to stay in time, establishing a network that spanned the political divide of the Iron Curtain. This expertise allowed them to create their transmitter capable of overlaying the official broadcasts. The police file on the event shows some of their equipment, including a Sinclair ZX Spectrum home computer from the West that was presumably used to generate the graphics.
There is no surviving recording of the overlay transmission, however a reconstruction has been put on YouTube that you can see below the break, complete with very period Communist TV footage.
We've looked across the Iron Curtain a few times before here at Hackaday, once examining the world of 1980s Communist home computers, and again with the story of a daring escape from East Germany.
Thanks [gnif] for the tip.