Remember the good old days when machines had a stout metal badge instead of cheap vinyl decals, and nameplates on motors were engraved in metal rather than printed on a label with a QR code? Neither do we, but these raised brass labels with color filled backgrounds look great, they're surprisingly easy to make, and just the thing your gear needs to demand respect as a cherished piece of gear.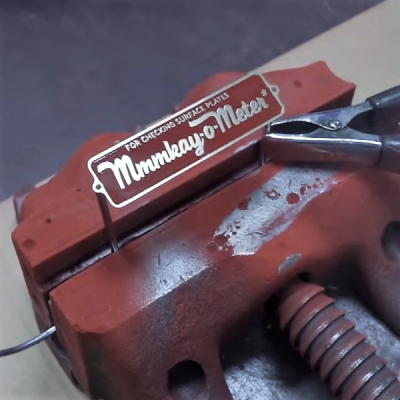 The 'easy' part of this only comes if you have access to a machine shop like [John] at NYC CNC does. To be fair, the only key machine for making these plates is a laser cutter, and even a guy like [John] needed to farm that out. The process is very straightforward — a brass plate is cleaned and coated with lacquer, which is then removed by the laser in the areas that are to be etched. The plate is dipped in an electrolyte solution for etching, cleaned, and powder coated. After curing the powder coat with a heat gun rather than an oven — a tip worth the price of admission by itself — the paint is sanded off the raised areas, the metal is polished, and a clear coat applied to protect the badge.
Plates like these would look great for a little retro-flair on a new build like this Nixie power meter, or allow you to restore a vintage machine like this classic forge blower.