More often than not, our coverage of projects here at Hackaday tends to be one-off sort of thing. We find something interesting, write it up for our beloved readers, and keep it moving. There's an unending world of hacks and creations out there, and not a lot of time to cover them all. Still, it's nice when we occasionally see a project we've previously covered "out in the wild" so to speak. A reminder that, while a project's time on the Hackaday front page might be fleeting, their journey is far from finished.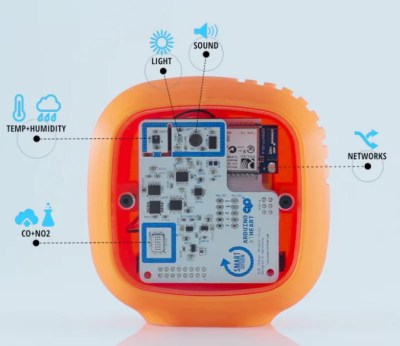 A perfect example can be found in a recent article posted by the BBC about the battle with noise in Barcelona's Plaza del Sol. The Plaza is a popular meeting place for tourists and residents alike, with loud parties continuing into the middle of the night, those with homes overlooking the Plaza were struggling to sleep. But to get any changes made, they needed a way to prove to the city council that the noise was beyond reasonable levels.
Enter the Smart Citizen, an open source Arduino-compatible sensor platform developed by Fab Lab Barcelona. We originally covered the Smart Citizen board back in 2013, right after it ran a successful funding campaign on Kickstarter. Armed with the data collected by Smart Citizen sensors deployed around the Plaza, the council has enacted measures to try to quiet things down before midnight.
Today people tend to approach crowdfunded projects with a healthy dose of apprehension, so it's nice to see validation that they aren't all flash in the pan ideas. Some of them really do end up making a positive impact, years after the campaign ends.
Of course, we can't talk about distributed environmental monitoring without mentioning the fantastic work of [Radu Motisan], who's made it his mission to put advanced sensors in the hands of citizen scientists.
[Thanks to muA for the tip.]