Space elevators belong to that class of technology that we all want to see become a reality within our lifetimes, but deep-down doubt we'll ever get to witness firsthand. Like cold fusion, or faster than light travel, we understand the principles that should make these concepts possible, but they're so far beyond our technical understanding that they might as well be fantasy.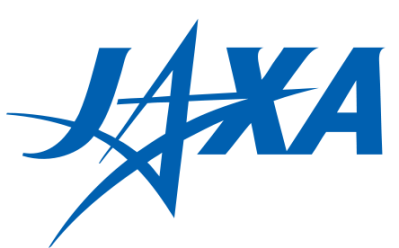 Except, maybe not. When Japan Aerospace Exploration Agency (JAXA) launches their seventh Kounotori H-II Transfer Vehicle towards the International Space Station, riding along with the experiments and supplies for the astronauts, will be a very special pair of CubeSats. They make up the world's first practical test of space elevator technology, and with any luck, will be one of many small steps that precedes the giant leap which access to space at a fraction of the cost will be.
Of course, they won't be testing a fully functional space elevator; even the most aggressive of timelines put us a few decades out from that. This will simply be a small scale test of some of the concepts that are central to building a space elevator, as we need to learn to crawl before we can walk. But even if we aren't around to see the first practical space elevator make it to the top, at least we can say we were there on the ground floor.
Going Up. Way, Way Up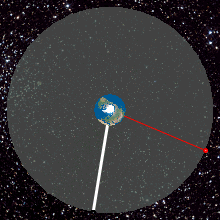 In a fully realized space elevator, an incredibly strong cable would attach an orbital platform to the surface of the Earth. Electrically powered vehicles (usually referred to as "climbers") would ride this cable from the ground, through the atmosphere, and directly into space. No rocket engines, no G forces pinning you to the seat. No flying at all, really. Just a smooth vertical ride at a leisurely pace of 200 hundred kilometers per hour or so. Physically it would be an easy trip, free from the rigors of a traditional space launch. But it certainly wouldn't be a quick one.
For the space elevator to work, the "top floor" needs to be in what's called a geostationary orbit. This means that the platform's orbital period would match Earth's rotational period, giving the appearance (from our perspective on the surface) that it's hovering motionless above us. This is the same orbit that many communications satellites are placed in, as it negates the need to actively track them across the sky. The problem is, geostationary orbit around Earth is at an altitude of 36,000 km (22,370 miles). At 200 km/h, it would take over a week for a climber to reach that altitude.
A Tall Order
As you can imagine, given its size and complexity, building a space elevator would be extremely expensive: the Obayashi Corporation, a Japanese firm that hopes to build a space elevator by the year 2050, estimates it will cost approximately $90 billion USD. But a space elevator is a piece of infrastructure, like a highway or rail line. It costs a lot of money up front, but it enables cheaper travel in the long run. With regular "climbs", it's estimated an elevator could bring the cost of putting a payload into space down to $220 per kilogram ($100 per pound). That's less than 1/10th of what it costs to fly on the already very cheap Falcon 9 rocket.
So it's not terribly fast, and it costs a lot of money to build, but it overall still sounds like a good investment for any civilization that's hoping to get off the rock they evolved on. So why haven't we built one? The simple answer is, we don't know how.
While the principle seems simple enough, the material science still eludes us. Building a rocket that can make it to space (and occasionally back, depending on who built it) is already pushing our metallurgic capabilities to the limit. But a cable that could stretch 36,000 km without breaking is beyond our current level of technology. Carbon nanotubes hold the most promise, but we aren't yet proficient enough in manufacturing with them.
Testing Our Mettle with a First Climb
The upcoming test will use two 1U CubeSats (each measuring 10 cm per side) deployed from the International Space Station to stand in as the Earth and orbital platform. The two CubeSats will be ejected from the ISS as one unit, but will then separate and move away from each other. They'll be linked together by a 10 meter (~33 foot) long steel tether, and then if everything goes according to plan, a tiny motorized climber will attempt to move from one satellite to the other.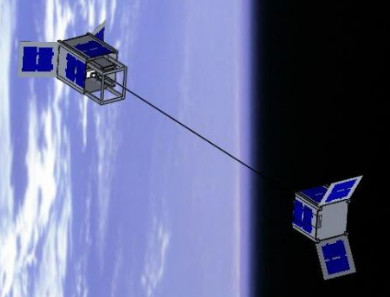 Measuring just 6x3x3cm, the miniature climber will be the first object in history to attempt such a maneuver. Theoretically we have a pretty good understanding of what will happen when the diminutive rider starts pulling on the cable, but theory and assumptions don't always play nice in space. Cameras on the satellites will monitor the climber as it goes, and a wealth of invaluable real-world data will be collected to help refine engineer's plans for larger scale tests in the future.
This mission builds on the success of previous Space Tethered Autonomous Robotic Satellite (STARS) missions launched by JAXA in 2009, 2004, and 2016. These missions tested the deployment and stability of the tether, which was also a first. After gaining an understanding on how the tethered vehicles alone behaved, the team behind the STARS missions at Shizuoka University now feel confident enough to move onto the next phase.
Ambition of a Century
First conceived in 1895 by Russian scientist Konstantin Tsiolkovsky, and popularized in the 20th century by the works of science fiction luminaries such as Arthur C. Clarke and Robert A. Heinlein, space elevators are second to perhaps only warp drive in terms of "Holy Grail" space technologies. Its been argued that, once humanity has a functional space elevator, we'll be well on the way to colonizing the solar system.
Our attempts at realizing the technology thus far have been limited in scope, but we may finally be seeing the first glimpses of light at the end of the tunnel. We've still got a few decades to go, so there's still plenty to be gained from coming up with alternate ways into space. But there's also no question that we're now closer than ever to obsoleting rocket technology that's been almost unchanged since its development during World War II.