From the Age of Sail through to the Second World War, naval combat was done primarily in close quarters and with cannons. Naturally the technology improved quite a bit in those intervening centuries, but the idea was more or less the same: the ship with the most guns and most armor was usually the one that emerged victorious. Over the years warships became larger and heavier, a trend that culminated in the 1940s with the massive Bismarck, Iowa, and Yamato class battleships.
But by the close of WWII, the nature of naval combat had begun to change. Airplanes and submarines, vastly improved over their WWI counterparts, presented threats from above and below. A few years later, the advent of practical long-range guided missiles meant that adversaries no longer had to be within visual range to launch their attack. Going into the Cold War it became clear that to remain relevant, warships of the future would need to be smaller, faster, and smarter.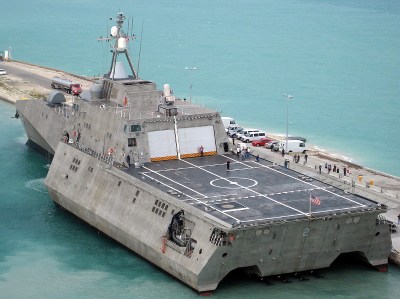 It was this line of thinking that lead the US Navy to embark on the Littoral Combat Ship (LCS) program in the early 2000s. These ships would be more nimble than older warships, able to quickly dash through shallow coastal waters where adversaries couldn't follow. Their primary armament would consist of guided missiles, with fast firing small-caliber guns being relegated to defensive duty. But most importantly, the core goal of the LCS program was to produce a modular warship.
Rather than being built for a single task, the LCS would be able to perform multiple roles thanks to so-called "mission modules" which could be quickly swapped out as needed. Instead of having to return to home port for a lengthy refit, an LCS could be reconfigured for various tasks at a commercial port closer to the combat area in a matter of hours.
A fleet of ships that could be switched between combat roles based on demand promised to make for a more dynamic Navy. If the changing geopolitical climate meant they needed more electronic reconnaissance vessels and fewer minesweepers, the Navy wouldn't have to wait the better part of a decade to reshuffle their assets; the changeover could happen in a matter of weeks.
Unfortunately, the Littoral Combat Ships have been plagued with technical problems. Citing the expensive refits that would be required to keep them operational, the Navy is now looking at retiring the first four ships in the fleet, the newest of which is just six years old.
Continue reading "US Navy Looking To Retire Futuristic Prototype Ships" →