If you ask your typical handyperson what's the one thing you need to fix most things, the answer might very well be duct tape. But second place — and first place in some circles — would have to be zip ties. These little wonders are everywhere if you look for them. But they are a relatively recent invention and haven't always had the form they have today.
The original zip tie wasn't called a zip tie or even a cable tie. In 1958 they were called Ty-Raps and produced by a company called Thomas and Betts. Originally meant to improve aircraft wiring harnesses, they found their way into various electronic equipment and packaging uses. But they've also become helpful in very unusual places too. A policeman trying to round up rioters would have problems carrying more than a few conventional handcuffs. But flexible cuffs based on zip ties are lightweight and easy to carry. Colon surgeons sometimes use a modified form of zip tie during procedures.
History
Maurus Logan worked for the Thomas and Betts company. In 1956, he was touring an aircraft manufacturing plant. Observing a wiring harness being put together on a nail board, similar to how car harnesses are made, he noted that the cables were bundled with waxed twine or nylon cord. A technician had to tie knots in the cord, sometimes cutting their fingers and often developing calluses. In addition, the twine was prone to fungal growth, requiring special treatment.
Logan kept turning the problem over in his mind and tried various approaches. By 1958, he had a patent for the Ty-Rap. The tie was lightweight, easy to install, easy to remove, and inexpensive.
The Design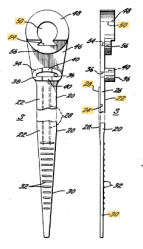 The original design didn't exactly look like today's zip tie, but it wasn't far off. The patent called for a "flexible plastic" strap. Like today's version, the strap had a set of ratchet-like teeth. However, the original Ty-Rap used a metal tooth to engage the ratchet — the pawl. This style of cable tie is still available but not as common as ones made entirely of nylon or some other plastic.
Usually, once you've engaged the zip tie, the only way to get rid of it is to cut it off, destroying it in the process. However, some ties have a small tab that lets you slip the pawl and release the zip tie so it can be removed and reused.
Variations
There are many variations of zip ties. Most are now made of nylon and often have some UV-resistant additive. You can get many different colors that are handy for color coding. Some also have heat-stabilizing additives to the nylon. Other additives allow metal detectors to sense the ties. There are other material options, including polypropylene, LDPE, and even stainless steel, which may be coated with another material. Size varies from tiny to around five feet long. We aren't sure what anyone needs with a five-foot zip tie, but they do exist.
Some zip ties have mounting holes. Others have integrated tags to write on. Some use a bead-like design instead of a ratchet. Others use a slotted strap, called a ladder tie, to prevent slipping and facilitate release.
Very exotic zip ties have two "heads," so you can put the strap through one hole to bundle one set of wires and then reverse it through the second hole to bundle another set of wires. You can get an idea of what's available from companies like Panduit, Avery Dennison, or Essentra, among others.
Is there a difference between cheap zip ties and expensive ones? Watch the video below from [Donut Media] to find out what they think. Be sure to watch both tests before you decide. The cost, by the way, isn't arbitrary. The expensive tie, in this case, is made from ECTFE fluoropolymer known as Tefzel, which has good chemical, radiation, and thermal resistance.
If you have a 3D printer, you could try printing your own. Nylon would be great as that's what most of the commercial ones use, but apparently, they work with other materials, too.
Tooling
Most of us cinch a zip tie by hand and use cutters to remove them. If you are really trying to get tight, pliers might help. However, you can buy guns that tighten the zip tie for you, which might be useful if you have to do thousands of them a day. Expensive versions use power and can even put a specific amount of tension on the zip tie. Simple ones are just jigs that push the head down the strap when you pull the trigger. You can see a simple, inexpensive gun in the video below. There are quite a few more expensive options from different suppliers. Another advantage to a good gun is that it cuts the excess off completely flush. If you cut by hand, be careful not to leave a sharp stub hanging out that might cut you or cut into something else.
If you are a bicycle enthusiast and you have a brake cable puller tool, those work, too. However, with that tool, you still need to cut the tie manually. We've seen people recommend twisting the end off with pliers or another zip tie, which leaves a soft point, but it also stresses whatever is in side the zip tie, so we don't suggest it.
What Can't They Do?
Zip ties are supposed to replace cable lacing, but they have many other uses, as well. The Internet is replete with "life hacks" for zip ties. They make good zipper pulls, for example. Some of them are a little silly or common sense, like many of the ones in the video below.
Case modders like [Daniele Tartaglia] always have great tricks for cable bundling and labeling. Check out the video below for some of those tips.
Less practically, you can do some strange things with zip ties, like make a lampshade or a fidget toy:
What's your favorite zip tie hack? Let us know in the comments what you use them for or how you use them better. Or, if you prefer, what you use instead.