Hooray, the system works! [Sasha K.] wrote to let me know about their Thumbs Up! keyboard, which is the culmination of a long journey down the DIY rabbit hole to end game. (Seriously, it's kind of a wild ride, and there's a ton of pictures).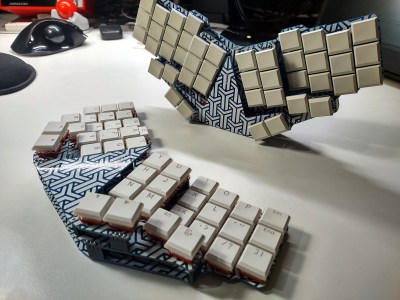 Thumbs Up! comes in both monoblock and full split versions, but both are designed for Kailh chocs. Fans of the Kinesis Advantage will dig the key wells and possibly the thumb cluster, which in this case is raised up a bit from the mainlands. I'm pretty fond of the naked PCB approach to keyboard building, especially when they're stacked and look as good as these do.
While the full split only comes in RP2040 (not that there's anything wrong with that), the monoblock split is available in Pro Micro, ATmega Mini, and RP2040 versions. You can find the STL for the tilt stand and other goodies on Thingiverse.
Continue reading "Keebin' With Kristina: The One Where Shift (Really) Happens" →