DIY electric personal vehicles are a field where even hobbyists can meaningfully innovate, and that's demonstrated by the Mega-Wheelie, a self-balancing one-wheeled skateboard constructed as an experiment in traversing off-road conditions.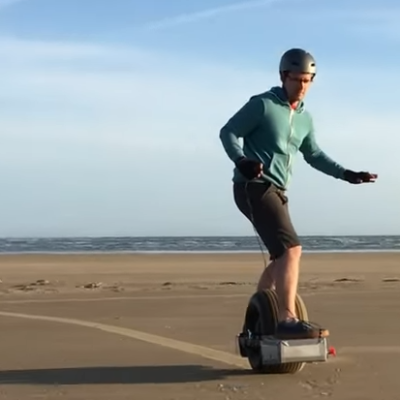 [John Dingley] and [Nick Thatcher] have been building and testing self-balancing electric vehicles since 2008, with a beach being a common testing ground. They suspected that a larger wheel was the key to working better on rough ground and dry sand and tested this idea by creating a skateboard with a single wheel. A very big, very wide wheel, in fact.
The Mega-Wheelie houses a 24V LiFePO4 battery pack, 450 W gearmotor with chain and sprocket drive, SyRen motor controller from Dimension Engineering, Arduino microcontroller, and an inertial measurement unit to enable the self-balancing function. Steering is done by leaning, and the handheld controller is just a dead man's switch that disables the vehicle if the person piloting it lets go.
Design-wise, a device like this has a few challenging constraints. A big wheel is essential for performance but takes up space that could otherwise be used for things like batteries. Also, the platform upon which the pilot stands needs to be as low to the ground as possible for maximum stability. Otherwise, it's too easy to fall sideways. On the other hand, one must balance this against the need for sufficient ground clearance.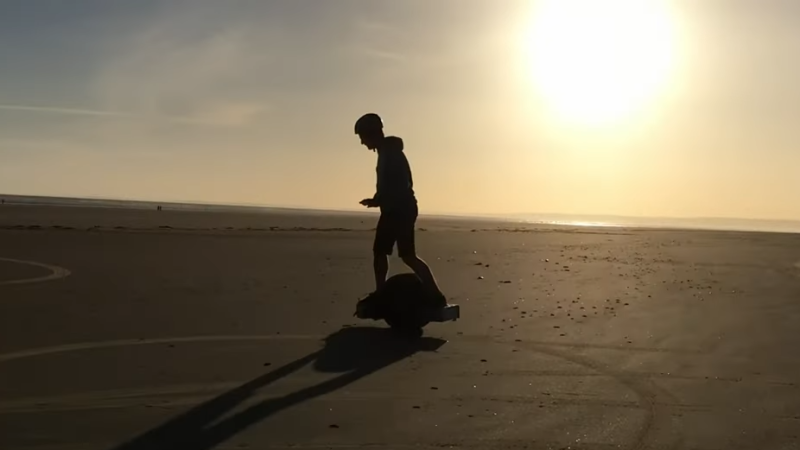 In the end, how well did it work? Well enough to warrant a future version, says [John]. We can't wait to see what that looks like, considering their past 3000 W unicycle's only limitation was "personal courage" and featured a slick mechanism that shifted the pilot's weight subtly to aid steering. A video of the Mega-Wheelie (and a more recent unicycle design) is embedded just below the page break.
And just for reference, here is some of [John]'s previous work on a self-balancing unicycle design.