What if you didn't have to risk your life to disconnect the power during a catastrophic storm? That's a question many people in Houston were asking themselves as they watched water from Hurricane Harvey and other storms surge through the streets, swell in the gutters, and flood their homes.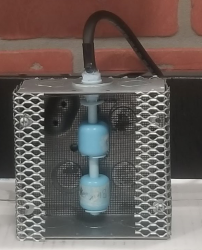 Among these Houstonians were engineering students [Jon] and [Cyrus Jyan]. They watched as homeowners fought to safely disconnect their homes from the power grid and said, it shouldn't have to be this way. They designed the Flood Fault Circuit Interrupter to monitor target areas and disconnect the power automatically when a credible threat is detected.
The FFCI is built on top of existing protection schemes like GFCIs and Arc Fault Circuit Interrupters. It isn't meant to replace them, but instead tie them together and turn them off based on input from float switches.
As floodwaters rise, an EEPROM does a lookup and compare to decide if the threat is enough to shut it down. If so, an alarm signal to a shunt trip breaker can either throw the whole system to OFF, or else switch over to an alternate power source. The system is built around a standard security panel and keypad interface that supports 12 V alarm output. We particularly like the float switch enclosures that allow water to enter while keeping out debris.