Just over a fortnight ago, RV Polarstern, a German research vessel, sailed back into port, heralding the end of the largest Arctic research project ever undertaken. The MOSAiC expedition, short for Multidisciplinary drifting Observatory for the Study of Arctic Climate, spent a full year running experiments to measure conditions at the North Pole, and research how the unique Arctic climate is being affected by human activity.
Unprecedented In Size And Scope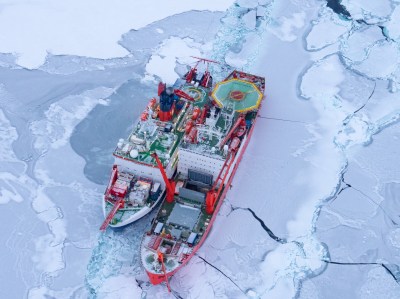 With a budget exceeding €140 million, and with over 300 scientists attached to the project, the expedition aimed to study a full year-long ice cycle in the Arctic region. To achieve this, the research vessel of the project, RV Polarstern, was navigated into an ice floe, and allowed to freeze in and drift with the ice pack. As the seasons progressed, the vessel drifted with the sea ice across the polar region. Along the way, a series of rotating research teams set up equipment on the ice and took regular measurements, investigating several scientific focus areas. Different groups observed atmospheric conditions and the sea ice itself, with researchers also focusing on biogeochemistry, the ocean, and the ecosystems in the area.
Icebreakers were used to transport goods and personnel to the RV Polarstern over the duration of the mission. The project faced issues in spring, as a pre-planned changeover executed by aircraft had to be abandoned due to restrictions brought about by the COVID-19 pandemic. Instead, this was also executed by ship, with the Polarstern temporarily leaving the ice to rendezvous with RV Sonne and RV Maria S. Merian for the changeover of approximately 100 crew and to pick up provisions. The detour took three weeks, but didn't have any major negative impacts on the mission. Continue reading "MOSAiC Project Freezes A Boat In The Arctic Ice Pack For Science" →