Before it was officially unveiled in December 2001, the hype surrounding the Segway Human Transporter was incredible. But it wasn't because people were excited to get their hands on the product, they just wanted to know what the thing was. Cryptic claims from inventor Dean Kamen that "Ginger" would revolutionize transportation and urban planning lead to wild speculation. When somebody says their new creation will make existing automobiles look like horse-drawn carriages in comparison, it's hard not to get excited.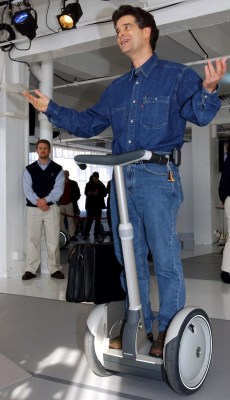 There were some pretty outlandish theories. Some believed that Kamen, a brilliant engineer and inventor by all accounts, had stumbled upon some kind of anti-gravity technology. The kids thought they would be zipping around on their own Back to the Future hover boards by Christmas, while Mom and Dad were wondering what the down payment on a floating minivan might be. Others thought the big secret was the discovery of teleportation, and that we were only a few years out from being able to "beam" ourselves around like Captain Kirk.
Even in hindsight, you really can't blame them. Kamen had the sort of swagger and media presence that we today associate with Elon Musk. There was a general feeling that this charismatic maverick was about to do what the "Big Guys" couldn't. Or even more tantalizing, what they wouldn't do. After all, a technology which made the automobile obsolete would change the world. The very idea threatened a number of very big players, not least of which the incredibly powerful petroleum industry.
Of course, we all know what Dean Kamen actually showed off to the world that fateful day nearly 20 years ago. The two-wheeled scooter was admittedly an impressive piece of hardware, but it was hardly a threat to Detroit automakers. Even the horses were largely unconcerned, as you could buy an actual pony for less than what the Segway cost.
Now, with the announcement that Segway will stop production on their eponymous personal transporter in July, we can confidently say that history will look back on it as one of the most over-hyped pieces of technology ever created. But that's not to say Kamen's unique vehicle didn't have an impact. Continue reading "The Segway Is Dead, Long Live The Segway" →