In the early days of spaceflight, when only the governments of the United States and the Soviet Union had the ability to put an object into orbit, even the most fanciful of futurists would have had a hard time believing that commercial entities would one day be launching sixty satellites at a time. What once seemed like an infinite expanse above our heads is now starting to look quite a bit smaller, and it's only going to get more crowded as time goes on. SpaceX is gearing up to launch nearly 12,000 individual satellites for their Starlink network by the mid-2020s, and that's just one of the "mega constellations" currently in the works.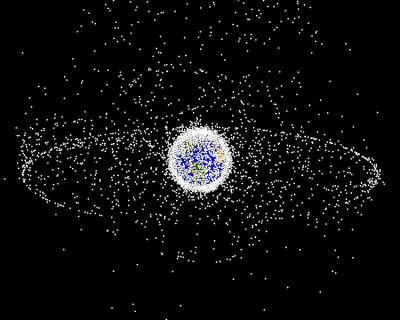 It might seem like overcrowding of Earth orbit is a concern for the distant future, but one needs only look at recent events to see the first hints of trouble. On September 2nd, the European Space Agency announced that one of its research spacecraft had to perform an evasive maneuver due to a higher than acceptable risk of colliding with one of the first-generation Starlink satellites. Just two weeks later, Bigelow Aerospace were informed by the United States Air Force that there was a 1 in 20 chance that a defunct Russian Cosmos 1300 satellite would strike their Genesis II space station prototype.
A collision between two satellites in orbit is almost certain to be catastrophic, ending with both spacecraft either completely destroyed or severely damaged. But in the worst case, the relative velocity between the vehicles can be so great that the impact generates thousands of individual fragments. The resulting cloud of shrapnel can circle the Earth for years or even decades, threatening to tear apart any spacecraft unlucky enough to pass by.
Fortunately avoiding these collisions shouldn't be difficult, assuming everyone can get on the same page before it's too late. The recently formed Space Safety Coalition (SSC) is made up of more than twenty aerospace companies that realize the importance of taking proactive steps to ensure humanity retains the unfettered access to outer space by establishing some common "Rules of the Road" for future spacecraft.
Continue reading "Developing Guidelines For Sustainable Spaceflight" →