The pioneering years in the history of capacitors was a time when capacitors were used primarily for gaining an early understanding of electricity, predating the discovery even of the electron. It was also a time for doing parlor demonstrations, such as having a line of people holding hands and discharging a capacitor through them. The modern era of capacitors begins in the late 1800s with the dawning of the age of the practical application of electricity, requiring reliable capacitors with specific properties.
Leyden Jars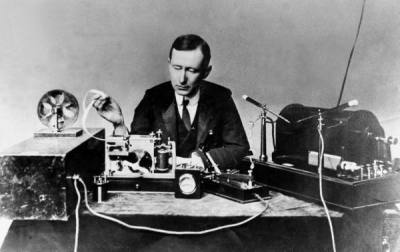 One such practical use was in Marconi's wireless spark-gap transmitters starting just before 1900 and into the first and second decade. The transmitters built up a high voltage for discharging across a spark gap and so used porcelain capacitors to withstand that voltage. High frequency was also required. These were basically Leyden jars and to get the required capacitances took a lot of space.
Mica
In 1909, William Dubilier invented smaller mica capacitors which were then used on the receiving side for the resonant circuits in wireless hardware.
Early mica capacitors were basically layers of mica and copper foils clamped together as what were called "clamped mica capacitors". These capacitors weren't very reliable though. Being just mica sheets pressed against metal foils, there were air gaps between the mica and foils. Those gap allowed for oxidation and corrosion, and meant that the distance between plates was subject to change, altering the capacitance.
In the 1920s silver mica capacitors were developed, ones where the mica is coated on both sides with the metal, eliminating the air gaps. With a thin metal coating instead of thicker foils, the capacitors could also be made smaller. These were very reliable. Of course we didn't stop there. The modern era of capacitors has been marked by one breakthrough after another for a fascinating story. Let's take a look.
Continue reading "History Of The Capacitor – The Modern Era" →