[Jason] is a woodworker. At least, he was until he saw his first 3D printer. While he may still work in wood, he particularly likes adapting scroll saw patterns for 3D printing. His clock started as a woodworking pattern for use on a scroll saw. To adapt it for 3D printing, [Jason] scanned the plotter-sized pattern pieces into Inkscape, where he was able to do things like add bevels before sending the pieces to OpenSCAD.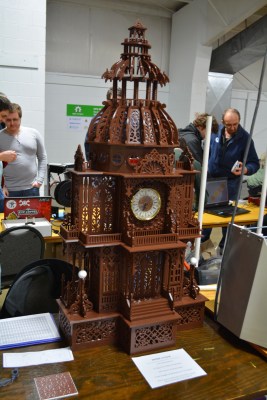 As you might imagine, a great deal of work went into this build, beginning with the scanning. [Jason] starting scanning last October and finished in January. Printing started January 9th, and he told me the final pieces were printed early this morning. We know you want all the details, so here goes: this build took just over six rolls of PLA at 20% infill. It's 48″ tall and about 24″ wide. It was printed on what [Jason] referred to as his "very modified" Replicator 2. He glued the pieces together with Testor's, and that took about 30 hours. All through the project, he kept meticulous notes in a spreadsheet of print times and filament used.
We were honored to be among the first to see [Jason]'s incredible clock build at this year's Midwest RepRap Festival. He would like to take it on tour this year to the nearby Maker Faires. If he can figure out how transport it safely, he'd like to show it at World Maker Faire in NYC.