If you've done any woodworking in the past, odds are likely that you'll eventually end up fixturing your stock in the crushing grip of a vise or C-Clamp. The results are painful, leaving a lasting impression of the clamp jaws on your beautiful, otherwise-unmarred piece of stock. Often, you'll need to design around this issue, fixture it gently, or cushion the grip with a softer intermediate material. [Chimponabike] had other thoughts, though, and developed a technique for successfully popping the dimples out, returning clamped wood to its perfectly unmarred form.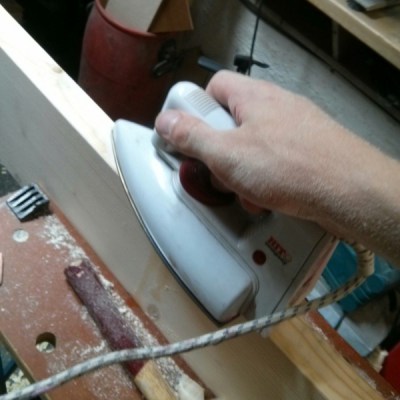 The Technique itself is dead simple and takes only a few minutes to perform. Simply apply a small amount of water, let it seep into the wood, and then bring a hot iron down onto the soaked wood to evaporate off the soaked water–instantly inflating the wood back into its original form!
It's not the first time we've abused our tools and home appliances to do some clever things with wood, but it's certainly worth adding to that "Tome of Techniques: Wood Edition" that you've been building in your browser's bookmarks bar.
Thanks for the tip, [James]!