Only a few days ago, a significant proportion of the Hackaday crew was leaving Goshen, Indiana after the fourth annual Midwest RepRap Festival. We go to a lot of events every year, and even when you include DEF CON, security conferences, ham swap meets, and Maker Faires, MRRF is still one of the best. The event itself is an odd mix of people rallying under a banner of open source hardware and dorks dorking around with 3D printer. It's very casual, but you're guaranteed to learn something from the hundreds of attendees.
Hundreds of people made the trek out to Goshen this year, and a lot of them brought a 3D printer. Most of these printers aren't the kind you can buy at a Home Depot or from Amazon. These are customized machines that push the envelope of what consumer 3D printing technology. If you want to know what 3D printing will be like in two or three years, you only need to come to MRRF. It's an incubator of great ideas, and a peek at what the future of 3D printing holds.
Resin Printing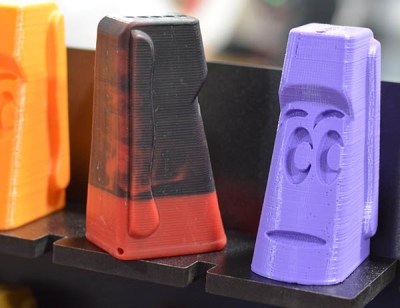 Resin printing has been just over the horizon for several years now. Is it ready for prime time? You would think so, with Autodesk's release of the Ember and the materials, hardware, toolchains, and machines quickly coming together into something that's actually usable in a home, lab, or hackerspace. So, how well were resin printers represented at MRRF? Eh, not very well.
That's not to say resin printers didn't make an appearance. LittleRP was there showing off their printer and the very high quality prints it produces. There was a SeeMeCNC droplit, but it wasn't in action. The Form 1+ was. This year, at least, resin printers were a curiosity. The prints coming out of these printers are great, but it doesn't look like it's ready for prime time quite yet.
Like fusion power, it seems desktop resin printing is perpetually a few years away. Two or three years from now, we'll all have them on our desks. It's the one prediction you can never go wrong with.
In Becoming A Swap Meet
Get enough hobbyists in one place, and you'll eventually have a swap meet. That's been the general idea behind hamfests, vintage computer conventions, and other miscellaneous conventions. MRRF is no different than any of these other festivals, and the pictures bear this out:
The Current State of 3D Printing
The Hype Cycle is a completely unscientific and only correct in retrospect observation on new technologies. It starts off with a trigger, and quickly accelerates to the peak of inflated expectations. For 3D printing, the peak of inflated expectations happened sometime around 2013 or 2014. 3D printed cars were the future, 3D printed apartment blocks existed, and soon we would have 3D printers on every desktop.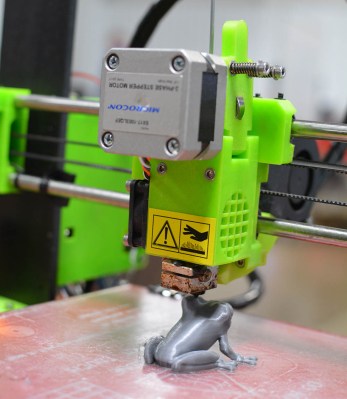 The hype of 3D printing is quickly falling down into the Trough of Disillusionment. At every Maker Faire, there are complaints that CNC hot glue guns are taking over. If you've seen one low poly Pokemon, you've seen them all. While the hype is failing, 3D printing is not. The companies presenting at MRRF are seeing consistent growth every year, and 3D printing is more popular than ever.
Technology improves, as well. [johnny r] of Ultimachine is working on an ARM-based version of the RAMBo, promising better prints and more capable hardware. There is word of an improved Prusa i3. A few years ago, you could count the number of filament manufacturers in the US on one hand. Today, there are a dozen.
What is the state of 3D printing? Improvement. Everything is improving, from slicers and software, to hardware and materials. MakerOS, soft-launched during last year's MRRF and was out in full force demonstrating their new software for 3D printer businesses. Red Hat is actively contributing to the software stack. Lulzbot is iterating on the TAZ (and might be the largest manufacturer of personal 3D printers right now), and E3D is making a great case for dual extrusion printing and dissolvable materials. The future of 3D printing doesn't exist yet, but at MRRF you can easily see where it is going – it's only going to get bigger and better.
The PartDaddy
Since Goshen, Indiana is the home of SeeMeCNC, delta robots, especially SeeMeCNC's Rostock Max, are especially well represented. While the Rostock Max is very big for a desktop 3D printer, SeeMeCNC does make an even larger printer – the PartDaddy. It's a 16-foot-tall delta robot with a four foot diameter build plate. It's huge, and SeeMeCNC will build you one for $90,000. It's the greatest trade show demo you've ever seen.
The PartDaddy doesn't use filament. Instead, the extruder was made out of the parts from an injection molding press. To extrude plastic through its 4mm nozzle, a small shop vac sucks natural PLA pellets and 2-3% masterbatch, or tiny colored beads, into a hopper. This is fed into the hot end via a screw, and is eventually extruded out of a nozzle that is highly evocative of the old RepRap acorn nut nozzles of 2010.
For this year's MRRF, the PartDaddy printed the standard octopus, [whosawhatsis]' gear bearing, and [mechg]'s "Single-Perimeter Rocket for Seamless Spiral Printing." The rocket was obviously the star of the show, taking fifteen hours to print, starting late Saturday night and ending Sunday afternoon. The entire print was livestreamed, and thanks to the magic of a Dropcam, we have a time lapse of the rocket being printed and the last day of the festival. The completed print was scaled 15x in the x and y axes, 19x in the z axis, making it about nine feet tall.