If we had a dime for every 555-based noisemaker circuit we see… But this one's got a twist.
[Tristan] does two things that elevate his sawtooth-wave noisemaker above the norm. First, he gets a clean sawtooth wave out of it so that it sounds about right. Then he manages to make it more or less playable. It's a refined version of a classic hack.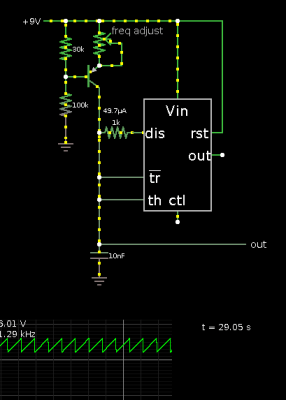 The first trick is a matter of putting a constant current supply upstream of the timing capacitor. The usual 555-timer circuit just charges the capacitor up from the power rails through a resistor. This is fine if all you care about is timing. But because the current is proportional to the constantly dropping voltage difference, the voltage on the capacitor is an exponential function over time.
A simple transistor current source linearizes the waveform in no time. Raw sawtooth waves are "rich in harmonics" which is synth-geek code for "a bit grating", but it will surely do well with a little filtering. The Javascript suggests that he's already thinking in that direction, but we're going to need video proof!
The second cool trick up [Tristan]'s sleeve is the light-dependent resistor (LDR) that determines the pitch. Yeah, we've all made those before — the light-dependent "Theremin". But [Tristan] took the extra step and wrote up a Javascript application that makes his monitor brighter and darker, enabling him to get musical pitches out of the gizmo.
We've always wanted to implement LED-to-LDR control while writing the Logic Noise series, but never found a reliable way to make it work. It's cool to see [Tristan]'s efforts. Maybe we'll pull a 555 out of the junk box in his honor.