Physics gives us the basic tools needed to understand the universe, but turning theory into something useful is how engineers make their living. Pushing on that boundary is the subject of this week's Fail of the Week, wherein we follow the travails of making a working magnetic flowmeter (YouTube, embedded below).
Theory suggests that measuring fluid flow should be simple. After all, sticking a magnetic paddle wheel into a fluid stream and counting pulses with a reed switch or Hall sensor is pretty straightforward, right? In this case, though, [Grady] of Practical Engineering starts out with a much more complicated flow measurement modality – electromagnetic detection. He does a great job of explaining Faraday's Law of Induction and how a fluid can be the conductor that moves through a magnetic field and has a measurable current induced in it. The current should be proportional to the velocity of the fluid, so it should be a snap to whip up a homebrew magnetic flowmeter, right? Nope – despite valiant effort, [Grady] was never able to get a usable signal out of the noise in his system. 
The theory is sound, his test rig looks workable, and he's got some pretty decent instrumentation. So where did [Grady] go wrong? Could he clean up the signal with a better instrumentation amp? What would happen if he changed the process fluid to something more conductive, like salt water? By his own admission, electrical engineering is not his strong suit – he's a civil engineer by trade. Think you can clean up that signal? Let us know in the comments section. 
---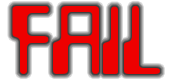 Fail of the Week is a Hackaday column which celebrates failure as a learning tool. Help keep the fun rolling by writing about your own failures and sending us a link to the story — or sending in links to fail write ups you find in your Internet travels.