Flashlights are handy around the house, but what if you want a stealthier approach to illuminating the night? Infrared LED flashlights can be acquired at relatively low cost, but where's the fun in that? To that end [johnaldmilligan] spent a couple hours building an infrared flashlight-gun with an LED display to venture into the night.
[johnaldmilligan] disassembled a handheld spotlight to use as the housing, leaving the trigger assembly and 12V DC charge port in place. A miniature camera was used as the video source after removing its infrared filter. Note: if you do this, don't forget that you will need to manually readjust the focus! The camera was mounted where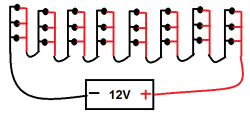 the flashlight bulb used to be instead of the LED array since the latter was impractically large for the small space — but attaching it to the top of the flashlight works just as effectively. The infrared LEDs were wired in eight groups of three LEDs in parallel to deliver 1.5V to each bank and preventing burnout. Here is an extremely detailed diagram if that sounds confusing.
PWM is used to dim the LEDs when their brightness is not needed, and also to reduce the current drawn from the eight AA batteries. Connecting the components together, cramming everything into the flashlight and covering the LCD screen with some X-ray film to dim the display for its intended nocturnal purposes resulted in a functional device fit for a DIY spy.
For another stealthy — and multipurpose — option, a flashlight with swappable LED, infrared and UV light heads will also add some functionality to your kit.
[via /r/DIY]