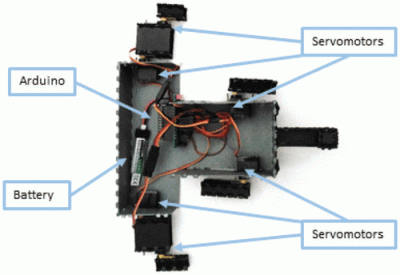 Robot design traditionally separates the body geometry from the mechanics of the gait, but they both have a profound effect upon one another. What if you could play with both at once, and crank out useful prototypes cheaply using just about any old 3D printer? That's where Interactive Robogami comes in. It's a tool from MIT's Computer Science and Artificial Intelligence Laboratory (CSAIL) that aims to let people design, simulate, and then build simple robots with a "3D print, then fold" approach. The idea behind the system is partly to take advantage of the rapid prototyping afforded by 3D printers, but mainly it's to change how the design work is done.
To make a robot, the body geometry and limb design are all done and simulated in the Robogami tool, where different combinations can have a wild effect on locomotion. Once a design is chosen, the end result is a 3D printable flat pack which is then assembled into the final form with a power supply, Arduino, and servo motors.
A white paper is available online and a demonstration video is embedded below. It's debatable whether these devices on their own qualify as "robots" since they have no sensors, but as a tool to quickly prototype robot body geometries and gaits it's an excitingly clever idea.
Perhaps there's an opportunity to enhance the "3D print, then fold" approach Robogami uses with this concept for making flexible prints out of non-flexible material, or incorporating simple 3D printed circuitry.
Thanks to [Adam] for the tip!