Business cards are stuck somewhere between antiquity and convenience. On one hand, we have very convenient paperless solutions for contact swapping including Bluetooth, NFC, and just saying, "Hey, put your number into my phone, please." On the other hand, holding something from another person is a more personal and memorable exchange. I would liken this to the difference between an eBook and a paperback. One is supremely convenient while the other is tactile. There's a reason business cards have survived longer than the Rolodex.
Protocols and culture surrounding the exchange of cards are meant to make yourself memorable and a card which is easy to associate with you can work long after you've given your card away. This may seem moot if you are assigned cards when you start a new job, but personal business cards are invaluable for meeting people outside of work and you are the one to decide how wild or creative to make them.
The Origin of Blinky Cards
My first round of business cards were designed by a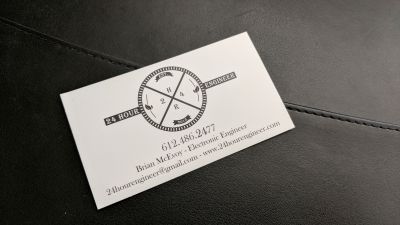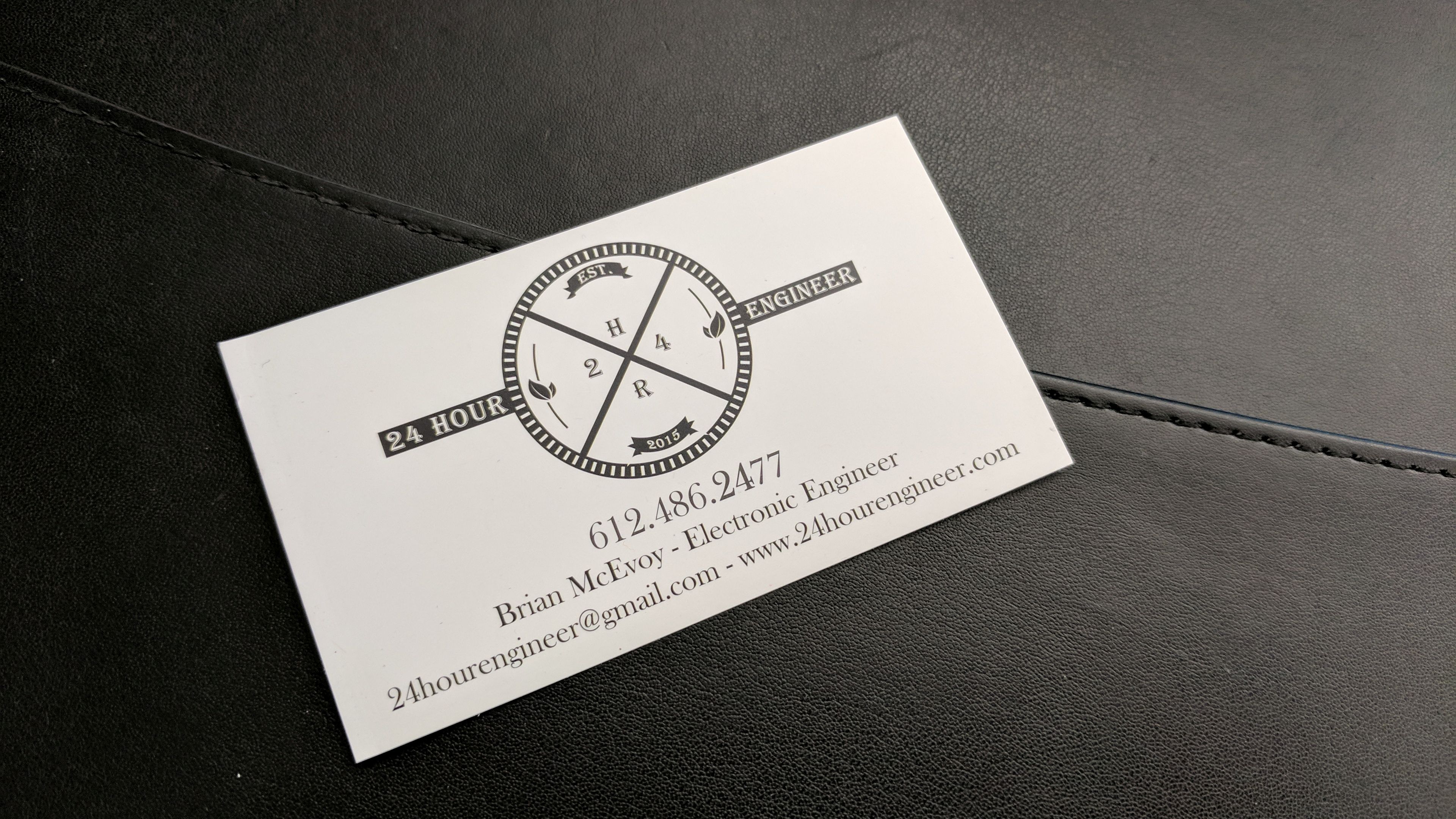 good friend and printed on dead trees. As an engineer, I accepted my own lack of style (cargo shorts FTW) long ago.
Her design was incredible and I bragged about having cards that were a bit unique and a bit traditional. Most often, they were actually an ice-breaker more than a way to wrap up a conversation. They were also a handy place to write notes and subtly give people my blog address at the same time.
Making yourself memorable through a business card can take a few forms. The first way is to be so memorable at your meeting that people can't help but remember you when they see your name. The second way, give them a card that is so stylish they will remember you as you are mirrored in your card. The last way, which is what I'll cover, is to give them a card so far outside their expectations that your face will be burned into their mind the moment your card touches their hands.
Flashing Takes Power: The Cutout Battery Holder Trick
Inspiration for my take on PCB business cards came from the idea of having a (literally) flashy card. After a little hunting, the biggest problem seemed to arise from a power source. Some relied on USB power and some had a battery soldered into the heart of the card. I wanted something that was more portable than USB power and more replaceable than a soldered battery.
The hack was to use the flexible nature of 0.6mm PCBs as the battery holder itself. A coin cell can be slipped in and out of these "fingers" easily. The profile of the whole card is thinner than a typical battery holder and it doesn't even appear on the BOM. Plus, coin cell holders are prone to catching on the inside of pockets.
It was tempting to use a microcontroller to flicker some LEDs but "You can do that with a 555."
Power Your Business Card Out of Thin Air
Powering a card with USB isn't a bad way to go but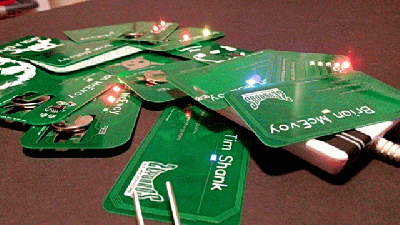 it requires a card 2.4mm thick and that is far from the only way to power up. You could add 9V battery snaps or even carve out two semi-circles at the edge of the card where 9V battery terminals can make their connections.
Another concept I experimented with was to harvest the power from an NFC transmitter. This card served the purpose of becoming an NFC antenna finding tool. Unlike similar tools, this simple design wouldn't differentiate between high and low-frequency transmitters but the BOM only requires an LED. So, simplicity over function in a giveaway.
The Budget Card: Do You Even Blink?
With the plummeting cost of PCBs and the rocketing number of respectable design apps, this was a natural intersection. Designing PCBs has never been easier with all the Benchoff tutorials here and maybe some new tips you can pick up from this article. Express your creative side on top of your engineering skills with a beggar's budget.
PCB business cards don't have to have electronics, they can simply be a way to show people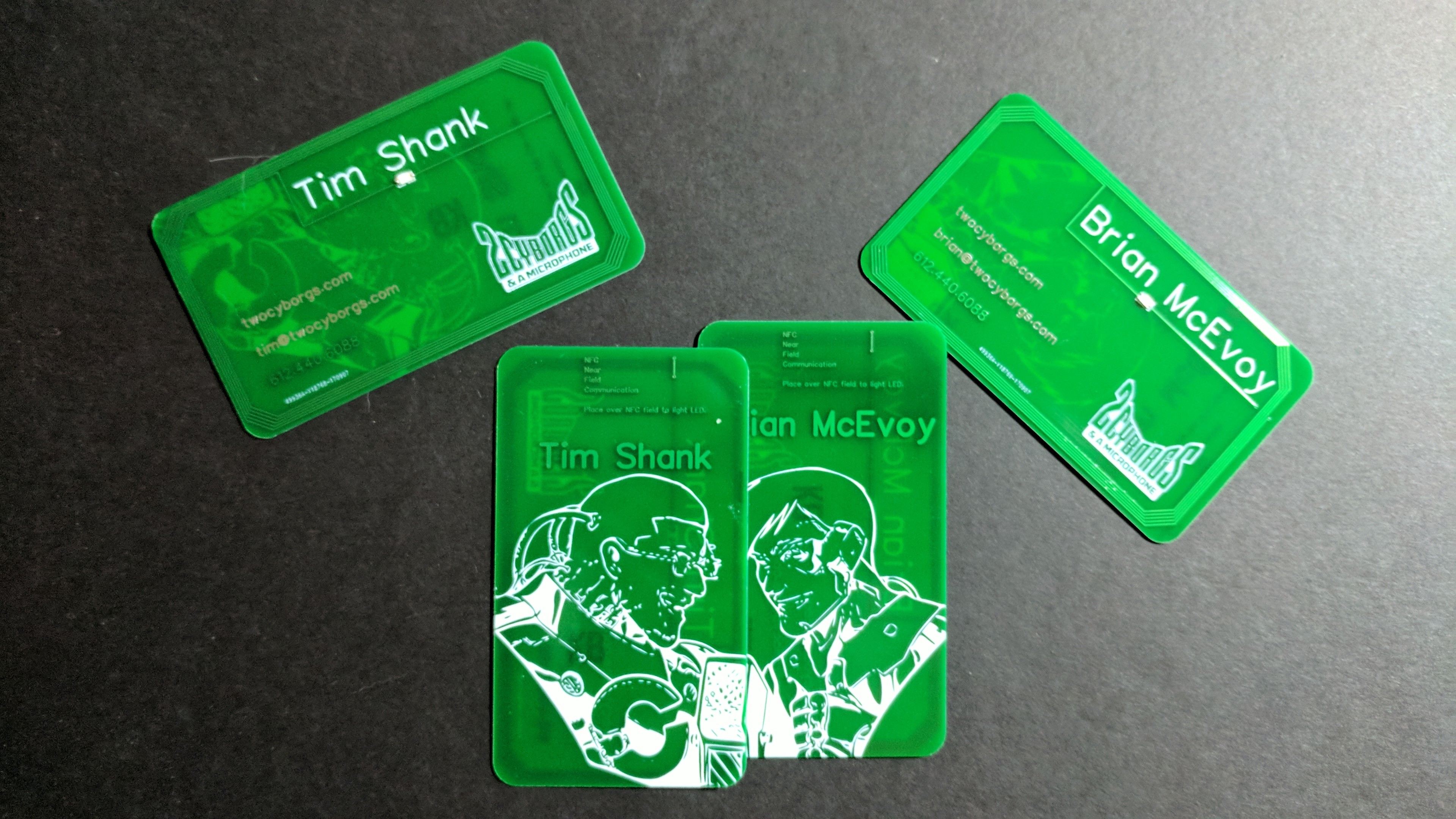 you are familiar with EDA software. Some people use unpopulated footprints as a guide for selecting parts.
Factors to consider when designing your card hinge on many things, most often, the cost will be at the top of the list. Compared to the dead-tree business cards, these are monstrously expensive. Handing out a PCB card to a crowded room would be costly but if you want to impress the hell out someone a hand-soldered business card might be the ticket.
A business card can tell you a lot about a person. Someone with rainbow comic sans probably shouldn't design your company's logo but could be a wonderful babysitter. Someone with cards printed at home on an inkjet printer wouldn't be my first choice for long-term financial investments but might be my specialty paper supplier. Someone with a water-logged clump of paper probably isn't VP material but might your best bet for a plumber. Show those lucky enough to be handed a PCB instead of your paper card that you have a knack for electronic design and a tinge of style to boot.
PCB tutorials by Brian Benchoff are a phenomenal place to start making your own or check out a technique for full-color cards. Using a microcontroller in your business card can look sexy but you can fit a whole EKG there if you really want inspiration.