When it comes to wearables, there are a few places you can mount rechargeable batteries and largish circuit boards. Certainly, badges hanging from a lanyard are a favorite here on Hackaday. A belt is another option. [deshipu] has come up with a good location on your head, provided you have long hair that is. That's the hair clasp or barrette. It can support a hefty mass, be relatively large, and doesn't touch your skin.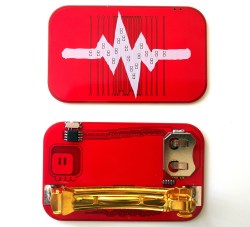 His plan gets even better, namely to use it as a hub for other electronics on your head, giving as examples: mechatronic ears and LEDs on eyelashes, earrings, and neck collars. We'd include some sort of heads-up display on glasses too or perhaps some playful glasses windshield wipers.
Being able to solder the clasp to the circuit board was his first success and he's since made a test barrette with pulsing LEDs which he's distributed to others for evaluation. We really like his electronic hub idea and look forward to seeing where he takes it. For now, he's done enough to have become a finalist in the Hackaday Human Computer Interface Challenge.